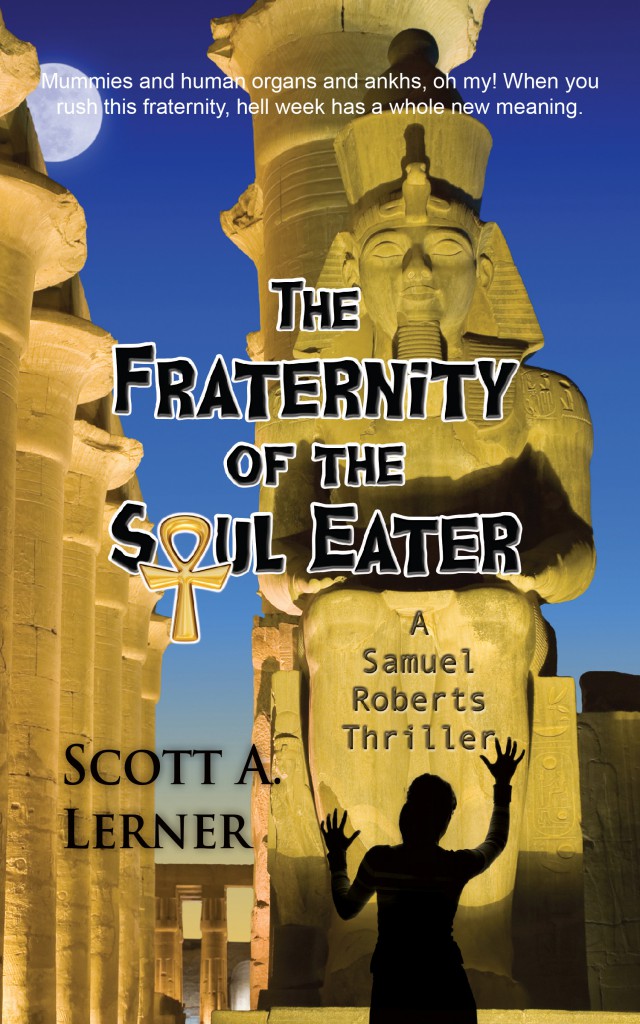 This week on The Scariest Part, my guest is Scott A. Lerner, whose latest novel is The Fraternity of the Soul Eater. Here's the publisher's description:
It's been a while since Samuel Roberts was called upon to save mankind, and he's getting restless. His girlfriend Susan thinks he's a danger junkie, and he's worried he has a hero complex. He's back to his usual small-town lawyerly duties in Champaign-Urbana, handling divorces and helping people beat DUI raps. But then a young fraternity pledge calls. During an initiation ceremony he witnessed the live sacrifice of a young woman, but he had so much alcohol in his system that no one believes him. Except Sam. Lately Egyptian lore has been creeping into his life, his dreams, and his movie preferences, and he's pretty sure he knows why. Evil is knocking on his door again.

Is the call welcome? Why can't Sam be satisfied with his comfortable legal practice and gorgeous redheaded girlfriend? Maybe it's because he knows that, as inadequate as he may feel to the task, he and his friend Bob may be humanity's only hope against ancient supernatural forces combined with modern genetic engineering. Come hell or high water. Or in this case, the underworld or subterranean pyramids.

The Fraternity of the Soul Eater is the third book in the Samuel Roberts thriller series, which began with Cocaine Zombies and continued with Ruler of Demons.
And now, let's hear what the scariest part was for Scott A. Lerner:
The Fraternity of the Soul Eater takes place on the campus of a major research university in the Midwest. It involves a campus fraternity who murders and then provides the souls of innocent co-eds as a sacrifice to an ancient Egyptian deity. The Soul Eater, also known as Ammit, was a nightmarish beast from Egyptian mythology. The creature had a body that was part lion, hippopotamus and crocodile — all scary creatures of their own right. Ammit would devour the undeserving souls whose hearts weighed more than a feather.
I do fear many mythological characters, not just Egyptian Gods. In this book confronting ancient evil is not the scariest part. The scariest part is the total disregard for humanity demonstrated by this group, who are modifying human DNA by combining it with animal DNA with no regard for suffering or the law of unintended consequences.
In some ways, my story could be from the pages of The New York Times. Scientists are working to modify human DNA. How can we as a society turn our back on the possibility of curing genetic disease? How can we resist the opportunity to make our children smarter, stronger or more attractive? Once we cross that line, where do we stop?
There is one particular scene in my book that is particularly disturbing. The main character views an evil experiment on video. A young woman is impregnated with a less than human fetus and the creature claws its way out of her uterus. The juxtaposition of the sterile environment with an abomination that is born, only to die soon after, is ghastly. That this is not the first or the last time this nightmare is replayed makes it far worse.
The Fraternity of the Soul Eater is a book of fiction. Even if it might cause you to sleep with the lights on, it remains fantasy. Yet, the ideas within its pages are possible. People are willing to sacrifice one another for power and greed. It does not take great imagination to figure out that if something can be done, even something horrifying, it likely will be done.
Sam, the protagonist, must face his own demons. Can he kill in order to save the life of the woman he loves? Does he remain on the side of the angels even after he has blood on his hands? Do the ends justify the means?
There is potential for evil in all of us. I can't think of anything scarier.
Scott A. Lerner: Website / Facebook / Twitter
The Fraternity of the Soul Eater: Amazon / Barnes & Noble / IndieBound / Smashwords
Author and attorney Scott A. Lerner resides in Champaign, Illinois. He obtained his undergraduate degree in psychology from the University of Wisconsin in Madison and went on to obtain his Juris Doctor degree from the University of Illinois in Urbana Champaign. He is currently a sole practitioner in Champaign, Illinois. The majority of his law practice focuses on the fields of criminal law and family law. Lerner's first novel and the first Samuel Roberts thriller, Cocaine Zombies, won a bronze medal in the mystery/cozy/noir category of the 2013 Independent Publisher (IPPY) Awards. The second book in the series is Ruler of Demons. The Fraternity of the Soul Eater is book 3. Book 4, The Wiccan Witch of the Midwest, will be released on Halloween, 2015.