Every year, I keep a list of the books I've read between January 1st and December 31st. Mostly it's for my own reference, but I know some people enjoy talking about books so I post it to my blog every year, too. The list does not include magazines, short stories, or individual comic-book issues, but it does include things like chapbooks and graphic novels/trade comic-book collections. So, without further ado, here is the list of books I read in 2015, in the order I read them:
Gifts For the One Who Comes After by Helen Marshall
The Yeti's Hand by Daniel Braum
Nightingale Songs by Simon Strantzas
Eiji Tsuburaya: Master of Monsters by August Ragone
Supernatural Noir edited by Ellen Datlow
The Scarlet Gospels by Clive Barker
Afterlife With Archie, Vol. 1: Escape from Riverdale by Roberto Aguirre-Sacasa
Best Horror of the Year, Vol. Six edited by Ellen Datlow
The Girl With All the Gifts by M.R. Carey
These Last Embers by Simon Strantzas
Magic for Beginners by Kelly Link
The Thief of Broken Toys by Tim Lebbon
Get in Trouble by Kelly Link
Pretty Monsters by Kelly Link
A Head Full of Ghosts by Paul Tremblay
Neonomicon by Alan Moore
In the Woods by Tana French
Fun Home by Alison Bechdel
Are You My Mother? by Alison Bechdel
Phoenix Island by John Dixon
The Girl on the Train by Paula Hawkins
The End of Everything by Megan Abbott
Burnt Black Suns by Simon Strantzas
'Salem's Lot by Stephen King
The Shining by Stephen King
That's 25 books this year, five fewer than my usual average of 30, probably because I spent so much time working from home last winter, which always results in less reading time. (I do the great majority of my reading on the subways.)
Looking over the list, a few patterns emerge. I read more collections and anthologies this year to make up for not reading any last year. This was also the year of my Linkathon, in which I read all the Kelly Link collections I hadn't gotten to yet, as well as the start of my Early Kingathon, in which I intend to catch up on all of Stephen King's classic older works. Watch for that to continue next year.
I would be hard-pressed to choose a favorite book from this year's list because so many were excellent. But I can definitely point to my two least favorites: Neonomicon, which devolves from an interesting Lovecraftian homage into just another Alan Moore wank fantasy, and In the Woods, which is beautifully written but left me frustrated and unsatisfied. I even liked The Scarlet Gospels better than both of them, and that novel has tons of problems!
That's it for 2015, folks! I hope you and yours have a happy, healthy, and prosperous 2016 that's filled with great books!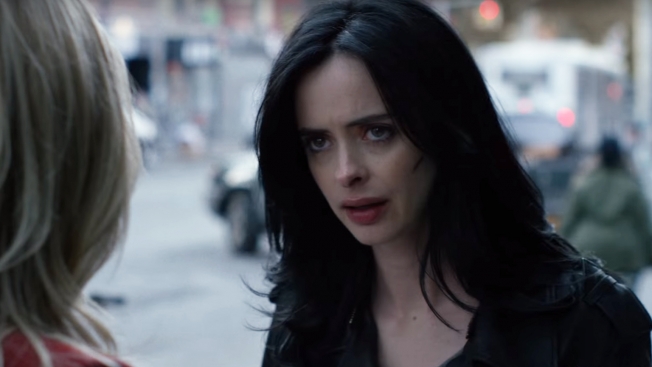 Of all the superheroes Marvel is bringing to big screens and small these days, Jessica Jones is the only one I had never heard of before. So, going into the 13-episode Netflix series, I didn't know what to expect. Some Internet research and a comics-savvy friend brought me up to speed on who she is, her backstory, and her relationship with Luke "Power Man" Cage. This knowledge made the viewing experience that much richer for me, I think, but anyone going into the series blind should have no problem enjoying it. That's because Jessica Jones is, quite simply, one of the best TV shows of the year.
Jones's backstory is pretty disturbing, and for a number of reasons I was wondering how the TV series would tackle it, if at all. Turns out the answer is: head-on and fearlessly. Like Daredevil before it, this isn't a superhero show for younger viewers. I questioned that decision for Daredevil, who is a hero known to adults and children alike, but it's the right call for Jessica Jones. This series has a lot of violence, bad language (the word "shit" is used at least once an episode), sex (it's not explicit, there's no nudity, but you certainly know what they're doing), and a generally disturbing subject matter that might put a cap on just how many episodes you can watch in one sitting before you have to indulge in a unicorn chaser to cleanse your palate. It has to have these things in order to be true to itself and its theme, and that fearless authenticity is what makes the show so special.
The cast is phenomenal. I only knew Krysten Ritter (above) from Apartment 23, which was a sitcom I didn't even watch, but she so fully inhabits the role of Jessica Jones that now when I see images from the comic book online the character doesn't look right to me because it's not her. Ritter brings a world-weariness, a sardonic attitude, and a lot of hidden depth, all of which brings the character to life. David Tennant is superb as the villain Kilgrave. I'd never seen him act as a villain before — well, maybe in that one Harry Potter movie, but I was hardly paying attention — and like Ritter, he throws himself so fully into the role that he becomes synonymous with it. (To the producers' credit they did not make Kilgrave purple like in the comics, because it would have looked ridiculous.) Everyone is great, but among the other standouts are Rachael Taylor as Jones's best friend and foster sister Trish Walker, Mike Colter as Luke Cage, Eka Darville as Jones's strung-out neighbor Malcolm, and Erin Moriarty as the tragic Hope Schlottman. Colby Minifie in particular deserves a special shout-out as Jones's annoying upstairs neighbor Robyn. She brings an unexpected emotional depth to what could have been a one-note character.
I never read the Jessica Jones comic book series, Alias, but I thought they did a great job developing the story for a TV series. Every episode pushed the plot and the characters forward without filler. To be honest, I think Jessica Jones might be better than Daredevil, and I liked Daredevil a lot. But Daredevil felt bloated with unnecessary scenes and characters (pretty much everything with Vanessa, for me), and its large-scale story with warring mobsters and exploding buildings didn't feel as compelling as Jessica Jones's more intimate, smaller-scale one. There's plenty of action here and things do explode, but by keeping things on a more personal level I think it keeps things interesting.
I'll tell you this: After a sneak peek at Luke Cage in Jessica Jones, I can't wait for his solo series. I'm getting pretty psyched for The Defenders now, too. Watching Ritter's Jones try to get along with other heroes is going to be a hell of a lot of fun.
***MINOR SPOILERS AHEAD***
I'll admit, I have a love-hate relationship with River Song on Doctor Who. Things started well. From her introduction in the season 4 two-parter "Silence in the Library"/"Forest of the Dead" through her guest appearances in season 5's "The Time of the Angels"/"Flesh and Stone" and "The Pandorica Opens"/"The Big Bang," I thought River Song was the greatest recurring character on the show since the Brigadier. We didn't know much about her because the Doctor didn't know much about her, only that she was a good friend (and possibly more) from his own future, someone he hadn't properly met yet. In a show about time travel, it makes sense that this would happen, that he would bump into an important figure from his life out of order, and there were some great moments to be mined from that. Also, on top of everything, Alex Kingston, who plays River Song, is amazing.
But if what was so magical about River Song was her mystery, that magic was completely undone in season 6, when the show became less about the Doctor's adventures and more about her life story. In a move that, in my opinion, utterly ruined her character, Steven Moffat insisted on unraveling every single mystery of River's life, many of the details of which didn't make sense (a human baby conceived on the TARDIS will have Time Lord abilities? What?), although to be honest most of season 6 didn't make sense anyway. Worse, this sassy, independent, time-traveling adventurer lost those very traits and suddenly became all about the Doctor, to the point where her entire life was quite literally about him. After that, I was over River Song. Completely. I never wanted to see her again, because if a little goes a long way then spending an entire season undoing everything that made her interesting goes right off the edge of a cliff. When she showed up again in season 7's "The Angels Take Manhattan" and "The Name of the Doctor," I wasn't pleased to see her. Although in that latter episode it seemed like we had finally seen the last of her.
We hadn't. When it was announced that this year's Doctor Who Christmas special was called "The Husbands of River Song," I groaned so loudly the cats ran away in terror. I rolled my eyes so deeply into the back of my head I could see my own thoughts. After a season that I thought was more mature, thoughtful, and in control of itself than the show has been in a long time, I was worried it would be a step backward. That it would remind me of a time when I was so disillusioned with Doctor Who I very nearly hated the program I've loved since I was a child.
I needn't have worried. "The Husbands of River Song" turns out to be quite an enjoyable adventure. Peter Capaldi has acres more chemistry with Alex Kingston than Matt Smith ever did, and he chooses to play their relationship maturely and with a sense of equality and respect between them, which Matt Smith also never did. (The writing and acting were so clunky in many of the Smith episodes that the Doctor came off as a terrible boyfriend, almost verbally abusive at times, which certainly couldn't have been the intention.) This increased chemistry between the two characters helps enormously. So does the fact that Steven Moffat has been able to write episodes for this season of Doctor Who without being hampered by also having to write a season of Sherlock. Apparently, when he focuses on just one program he does a much better job!
There's a lot of humor in "The Husbands of River Song," most of it stemming from River not recognizing the Doctor's new face. I also got a kick out of River's codename for the Doctor being "damsel," because he's always in distress and needs rescuing, and how the Doctor needs a flowchart to figure out their out-of-chronological-order relationship. A book called History's Finest Exploding Restaurants was also a nice touch. But perhaps the funniest moment of all is when the Doctor gets to pretend to be overwhelmed by how big the TARDIS is on the inside. His litany of extreme reactions was laugh out loud funny. I appreciated that River Song is once again independent and sassy, too, just like she was when we first met her. The revelation that she sometimes steals the TARDIS when the Doctor isn't looking to go on her own adventures was a charming one.
There were some poignant moments as well, such as when River admits that she loves the Doctor without realizing he's right there, and when they figure out this will likely be their last meeting. The only misfire? Those damn sonic sunglasses show up again!
With Capaldi in the role opposite her, I no longer feel like I'm over River. I wouldn't mind if she popped up again down the road. But please, Doctor Who, use her sparingly. We all saw how much the show suffered when you got too focused on River Song, and you're better than that now.