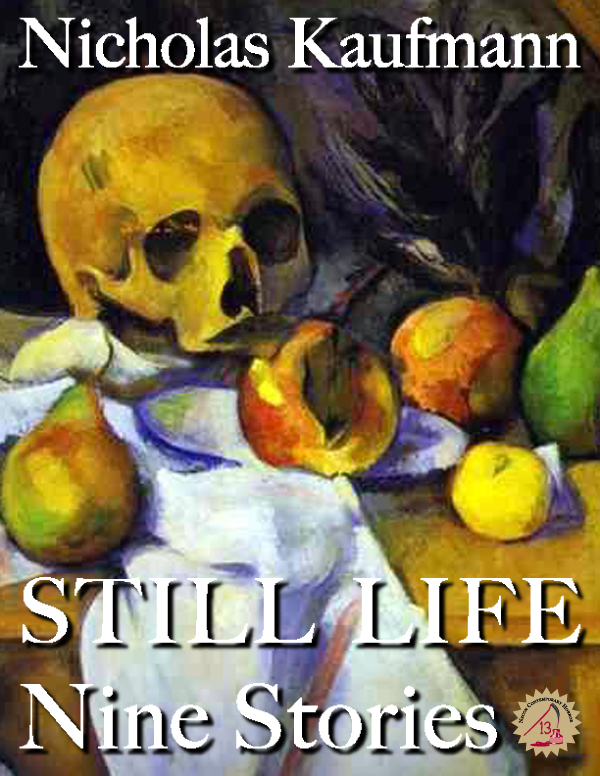 I'm giving away five (5) free copies of my brand new e-book collection, Still Life: Nine Stories, published by Necon E-Books! That's seven previously published stories plus two never-before-seen originals, absolutely free, and here's all you have to do:
1) Email me at nick.kaufmann@gmail.com. I will only be giving away five copies, so it's first come, first serve. If you do not want the e-book file to be sent to the address you email me from, please be sure to include the email address you would like me to send it to.
2) Specify your e-reading device. I can send you either a MOBI file for the Kindle or an EPUB file for the Nook, Sony, iPad, etc., but you'll need to tell me which one to send.
3) Review the collection on your blog and/or social media sites. Honest reviews only, good or bad. In-depth reviews are preferred over capsule reviews, but I'm not picky, so long as you do review it. It's all I'm asking in return.
4) Send me a link to your review. This way I'll be sure to see it and can even post about it here on my blog, with a link back to yours. However, this means your review will have to be a public post, not a private, locked, or friends-only post. That's something to keep in mind before entering. If you prefer to keep all your blog or social media posts private, locked, or restricted in any way, I'm sorry but you won't be eligible for this particular giveaway.
And that's it! I look forward to hearing from you and reading your reviews!