Look at this thing of beauty that arrived in the mail today!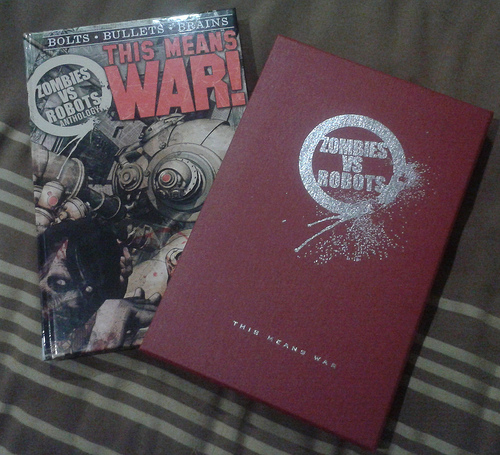 That's the limited edition hardcover of Zombies vs. Robots: This Means War! complete with gorgeous slipcase. What's more, it's signed by all the contributors, including yours truly. (And more importantly Chris Ryall, Brea Grant, James A. Moore, Sean Taylor, Nancy A. Collins, Steve Rasnic Tem, Lincoln Crisler, Joe McKinney, Jesse Bullington, Rachel Swirsky, and Norman Prentiss!) It's a durable library binding with wraparound art, rather than a dust jacket, and comes with full color interior illustrations by  Fabio Listrani.
My story "The Sorcerer's Apprenticebot" is one of the most fun tales I've ever written, and the Zombies vs. Robots universe is sheer gonzo entertainment. Don't miss out!
The signed, limited edition hardcover and slipcase is available online via Cemetery Dance Publications and IDW Limited. And of course the regular trade paperback edition is still available via Amazon or wherever fine books are sold.