Last night's reading with Chandler Klang Smith and Karen Heuler at the HiFi Bar went really, really well! Their new back room is perfect for readings, separate from the bar itself with its own sound system and another, smaller bar. Also, their happy hour prices couldn't be beat: $3 for a pint? Yes, please! If you're looking to set up a reading in New York City, put the HiFi Bar on your shortlist. Seriously.
We had a great turnout. Standing room only. Before the reading began, I took this not exactly well-lit photo of a portion of the crowd. I took it from the stage, which is why you can see the microphone at the bottom there (click to enlarge):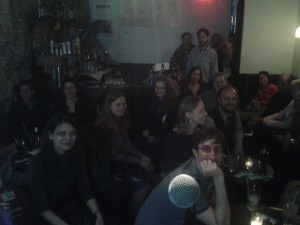 Here's a photo of me reading an excerpt from my forthcoming novel Die and Stay Dead (out September 30th from St. Martin's!), taken from the back of the room by my friend M.M. De Voe (click to enlarge):
The crowd seemed to enjoy our readings, and all of us managed to sell some books, which is no mean feat in this age of one-click ebook delivery. Unfortunately, these are the only two pictures I have from last night. However, you can see more pictures of me, Chandler, and Karen reading on Jim Freund's Instagram. Jim also recorded the readings. If the recording shows up online, I'll be sure to link to it.