This weekend, Alexa and I celebrated our third wedding anniversary — the leather anniversary! She got me this beautiful, handmade, dragon's hide notebook (click to embiggen):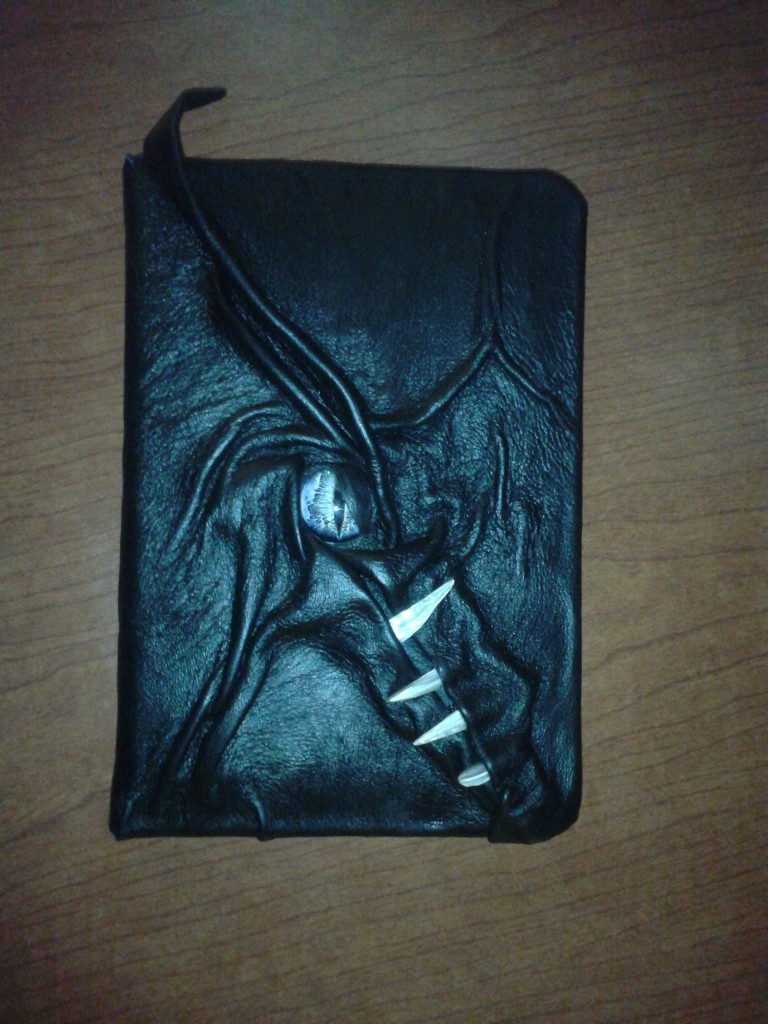 Great minds think alike: I also got her a handmade, leather-bound notebook, one embossed with her name. (Our four-year anniversary will be harder to shop for. It's the fruit/flowers/appliances anniversary. Happy anniversary, sweetie, here's a toaster!)
We spent our anniversary in Atlantic City, of all places. It wasn't something we would normally have planned, but we won an expensive vacation package from one of those drop-your-business-card-in-the-goldfish-bowl raffles and had to pick up the prize in person. The only catch: We also had to sit through a two-hour timeshare presentation. Ugh, talk about soul-killing. It's very tiring to say no over and over again for two hours. We spoke to three different salesmen, each offering us a lower price until they were practically giving us a unit, and we just kept saying no. We're just not timeshare people. It's not even a lifestyle I understand.
After that nonsense, we had a lovely tapas dinner at a restaurant called Amada at the Revel Hotel and Casino. Highly recommended to anyone who loves tapas and also has food allergies. They take good care of the gluten and dairy intolerant there, as we discovered, and the food was amazing. Then we walked on the boardwalk, gambled our $25 Greyhound bus voucher away on penny slots at Bally's casino, and spent the night at the Claridge Hotel.
The next day, I had breakfast at Johnny Rockets, which was awful, especially when most of the wait staff had to drop everything and dance in the aisles, blank-faced and disinterested, to the song "Last Dance," which played over the PA system at ear-bleeding volume and drove Alexa out of the restaurant. The dancing wait staff were clearly annoyed because they had work to do, and the other members of the wait staff were annoyed because they had to try to get by them to bring food to customers. The whole thing was ridiculous. I don't know why they do it. It's not even an attraction that would bring people in. It's just nonsense.
A lot of Atlantic City is nonsense. After breakfast, we walked on the boardwalk some more, then took the Greyhound bus back to New York City. In the end, we had a lovely anniversary, thanks to Amada and the Claridge, but the rest of Atlantic City was kind of a shit hole.