Alexa and I went to Salem, Massachusetts, over Memorial Day weekend, and I've only just now gotten all the pictures together! Believe it or not, this was my first trip to Salem. I loved it! Aside from being just a beautiful little town, it's the perfect combination of history and vaguely gothic-horror cheese. We didn't get to take any walking tours this time around — the ghost tours looked especially enticing to me — but we'll be sure to when we go back. And we'll definitely go back. It's a small town that can be easily walked, but there's so much to see and, well, we were on vacation, which meant epic, hours-long naps every day. But I fell in love with Salem immediately and am so glad we went. Here's a sampling of the pictures we took:
One of the first street signs I saw: Pickman Street! I knew immediately that I'd be right at home in Salem, Lovecraft's model for the city of Arkham!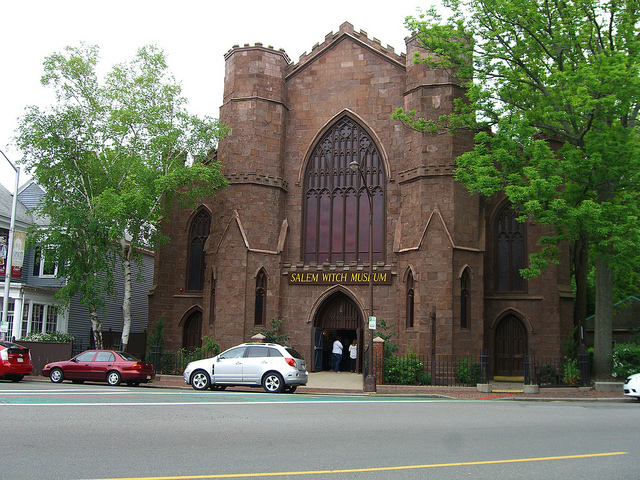 The Salem Witch Museum. Definitely one of my favorite attractions on the cheesy side of things. Inside is a wax-figure diorama accompanied by eerie music and narrated by someone who sounds vaguely, but not quite, like Peter Cushing. "Do youuuuuu believe in the Devil…?"
Jack Haringa and his family joined us for an afternoon. Here they are posing with a new friend outside Count Orlok's Nightmare Gallery, which was my favorite attraction of all time. A wax museum filled with movie monsters while Midnight Syndicate plays over the P.A. system! I could have spent all day in there. I could have moved in.
The House of the Seven Gables, inspiration for Nathaniel Hawthorne's classic novel! We took a tour inside. It was lovely. We even got to climb the steps inside a secret passageway hidden in the walls!
This is from the shitty, shitty Salem Wax Museum of Witches & Seafarers. Seriously, it's so shitty. Don't go there.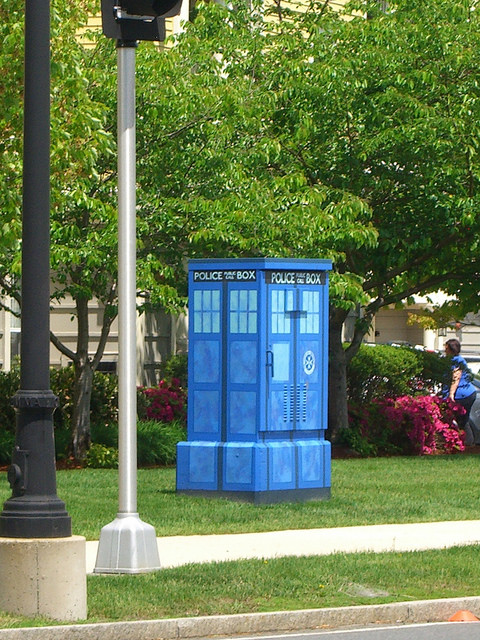 There's some kind of public art program in Salem where they paint and decorate utility boxes. Here's one we found with a familiar design.
There are tons more photos from Salem on my Flickr site, including lots of lovely items from the Peabody Essex Museum. Check it out!
Thank you, Salem! We had a great time and can't wait to go back!