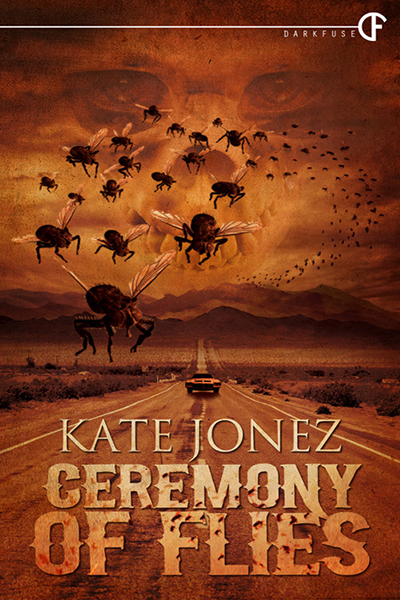 Welcome to this week's installment of The Scariest Part, a recurring feature in which authors, comic book writers, filmmakers, and game creators tell us what scares them in their latest works of horror, dark fantasy, dark science fiction, and suspense. (If you'd like to be featured on The Scariest Part, check out the guidelines here.)
My guest is Kate Jonez, whose latest book is the novella Ceremony of Flies. Here's the publisher's description:
Two petty criminals find themselves inextricably linked when a stop at a roadside bar leads to murder.

On the run and out of options, they reluctantly rescue a stranded boy and his dog from a lonely crossroads in the Mojave desert and decide for the first time in their lives to do the right thing.

But this one selfless act unleashes a terrifying onslaught of demonic trouble as they struggle to save the boy — and themselves — from an evil far greater than they ever imagined.
And now, let's hear what the scariest part was for Kate Jonez:
Ceremony of Flies is the story of two petty criminals who are on the run because petty criminals tend to make bad decisions. When they find a little boy and his dog at a crossroads in the Mojave Desert, they decide, for once, to do the right thing. Turns out, a weird kids found in the middle of nowhere aren't always what they seem.
There are several scenes in this book set in places that creep me out. Rough looking roadside bars in dusty desert towns are scary. When you walk in, you can never be sure if you'll find charming country folk or meth addled psychopaths. The Mojave Desert is, itself, a terrifying place. It's huge and desolate and inhospitable to human life. The nighttime desert soundscape is lonely and haunting. Anyone not afraid to be alone in the desert at night doesn't have any sense. The freeways of Los Angeles are fast and furious. For imaginative people, it's easy to visualize being smeared on the pavement each time a car whizzes by at ninety miles an hour.
For me, the scariest part of Ceremony of Flies is when Emily finds the little boy she's rescued and fallen in love with drowning in the Salton Sea. For those unfamiliar with the nastiest pus hole on earth, the Salton Sea is the largest accidentally created salt water sea on the planet. It is unnatural in every way. Because it's in the desert, temperatures in summer often rise to more than 120 degrees. Extremely high salinity gives it the consistency of watery Jell-O. Fish and water birds die in large numbers, which give the sea the aroma sometimes noticed as far away as San Diego. Somehow these creatures manage to reproduce enough to supply the shore with a constant stock of rotten maggot infested corpses. The thought of diving into something this disgusting is scary enough, but to have a child you love in danger of drowning in it magnifies the terror even more. To write this scene, I called upon a memory of the day my son, when he was three or so, managed to open the gate to our back yard. When I looked out the window he was toddling at full speed across the apartment complex toward the pool. Time moves in a crazy way when that kind of fear takes over. I ran as fast as I ever had. It felt slow, like slow motion. When I'd covered half the distance between us, his bobbing head disappeared. The absolute worst thing was no longer going to happen. It had happened. And I had to contain the panic to achieve the best possible outcome. Think — breathe — RUN!
Ceremony of Flies, published by DarkFuse, is available July 8th in ebook and limited edition hard cover. I hope you'll read it and let me know what you think the scariest part is.
Oh, and my son was fine. A neighbor caught him as he jumped in and sat with him at the edge of the pool until I got there. Kids are freaking scary.
Kate Jonez: Website / Twitter / Facebook / Goodreads
Ceremony of Flies: Amazon / DarkFuse / Goodreads
Kate Jonez writes dark fantasy fiction. Her Bram Stoker Award ® nominated novel Candy House is available at Amazon in print and ebook. Ceremony of Flies is forthcoming from DarkFuse in July 2014. She is also chief editor at Omnium Gatherum, a small press dedicated to providing unique dark fantasy, weird fiction or literary dark fiction in print and ebook. Three Omnium Gatherum books have been nominated for Shirley Jackson Awards. Kate is a student of all things scary and when she isn't writing she loves to collect objects for her cabinet of curiosities, research obscure and strange historical figures and photograph weirdness in Southern California, where she lives with a very nice man and a little dog who is also very nice but could behave a little bit better.