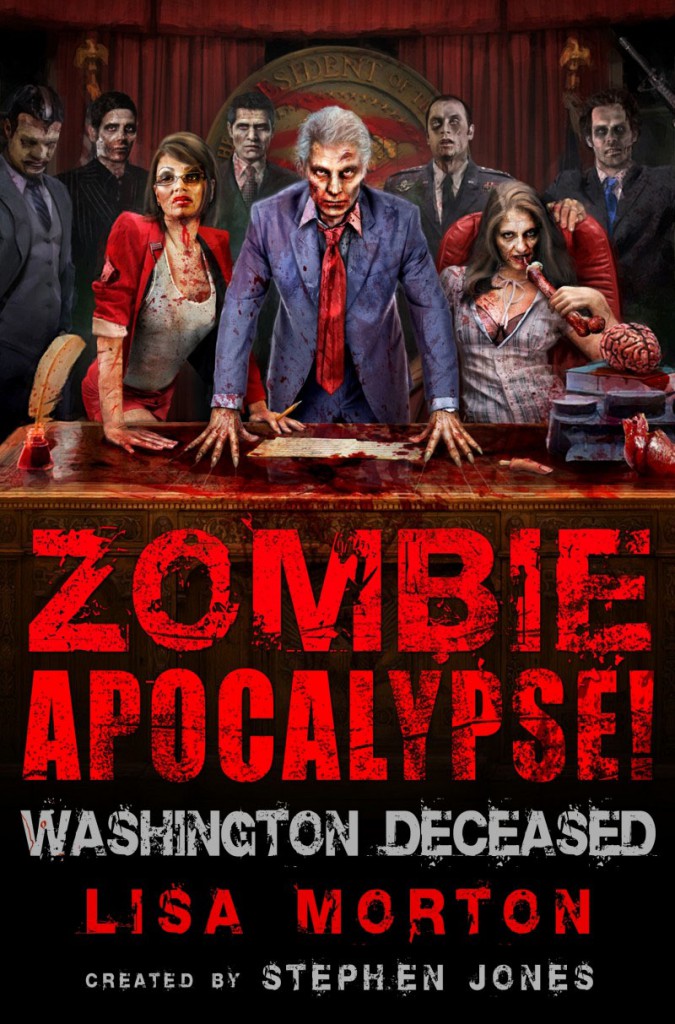 Welcome to this week's installment of The Scariest Part, a recurring feature in which authors, comic book writers, filmmakers, and game creators tell us what scares them in their latest works of horror, dark fantasy, dark science fiction, and suspense. (If you'd like to be featured on The Scariest Part, please review the guidelines here.)
I'm very pleased to have six-time Bram Stoker Award-winning author Lisa Morton as my guest. I've known Lisa for a long, long time, despite living on opposite ends of the country from each other, and her tireless work in supporting and promoting the horror genre is legendary. She also happens to have a new novel out called Zombie Apocalypse! Washington Deceased. Here is the publisher's description:
There is nothing to fear, but fear itself . . . and Zombies!

A novel set within the Zombie Apocalypse! mythos created by Stephen Jones for his bestselling trilogy, Washington Deceased is sent during the second half of Zombie Apocalypse! Fightback, when the zombies' intelligence is increasing and they have formed themselves into a society, and an army. New York and Los Angeles have fallen to the walking dead and there has been no news out of Chicago, but Washington DC is still holding out and the South is still free. Time is running out, though, for the battalions defending Capitol Hill . . .

As the most powerful symbols of American democracy begin to fall, the President and her advisors must be protected at all costs. But what if there are people in her own government who are prepared to do a deal with the living-dead invaders to retain power at any cost?

Meanwhile, "Zombie King" Thomas Moreby is making his own plans to rule the United States as his control increases across the country. Moreby claims to have "foreseen" his victory, but there are emerging factions in his own ranks who are starting to question their role in the war between zombies and humans.

And how does the mysterious New World Pharmaceuticals fit into the New Zombie Order?
And now, let's hear what the scariest part was for Lisa Morton:
Zombie Apocalypse! Washington Deceased is a big, cross-country sprawl that charts the fall of the United States during a (surprise!) zombie apocalypse. As such, this is not a horror novel of subtle chills and quiet terrors, nor does it venture into SLC (Spring-Loaded Cat for the uninitiated) territory. I wanted it to disturb readers, to occasionally gross them out, but overall to create a sense of terrible doom.
The pivotal sequence in the book is a battle that occurs around the White House. At this point in the book, martial law has given way to a provisional government that's holed up in a secret underground bunker complex beneath Washington. Zombies have overrun the world, leaving scattered pockets of human resistance. The acting president believes retaking the White House — the architectural symbol of American power — is crucial in unifying these fighters, and it needs to be done while there are still enough human forces left to unify.
The ensuing battle was important not just for setting up plot points that play out in the second half of the book, but also for setting up that sense of dread, that unnerving feeling that you're right smack in the middle of watching the final, definite failure of your way of life. Two protagonists fly into the scene; only one makes it out alive, and her faith in their efforts is so severely shaken that it changes her.
One of the things I knew early on that could easily derail this sequence was the believability factor. The reader needs to be thinking, "Oh my God," not, "But that doesn't make sense," or (in case the reader has military knowledge or experience), "They wouldn't have that tank in that situation." Now, I'm far from an expert in war machinery or strategy, so I started researching this stuff early on, even while I was writing earlier parts of the novel. I spent weeks, maybe months, reading up on skirmishes and battles, military leadership and chain of command, guns, armor, drones and their missile payloads, tanks, RCVs (Route Clearance Vehicles), the layout of Washington (and especially the grounds surrounding the White House), and all the military bases and supply depots within a day's drive of Washington. I studied reports from the Iraq and Afghanistan conflicts that had been made into bit torrent files by Wikileaks, I read books on politics and government, I went to the websites for all the bases and looked at what they made and stored (did you know you could do that? I didn't), I watched YouTube videos of guns and tanks and drones in action…and slowly I began to chart out the sequence.
It wasn't enough to know merely how an RCV would work; it was equally important to my uses to know how these pieces of equipment would fail. In some cases I just plain had to guess, or make something up. You can't find quite everything online, after all.
Watching America's high-powered arsenal fall before the zombies was central to this sequence, and to building that all-important dread. Wound around these big set pieces were the smaller actions of the two protagonists who are in the middle of the conflict. I chose one of these two to be the main point-of-view character in the sequence, and so the horror had to be experienced through her eyes. She's been involved with planning this attack, and now she's watching it fail, very badly. For all the research into machinery and weapons, it all has to come back to what one person is feeling. Without her, it just becomes a big, spectacular but empty battle. With her, I hope it worked as a large-scale, adrenaline-pumping, realistic exploration of shock and awe.
Lisa Morton: Website / Facebook
Zombie Apocalypse! Washington Deceased: Amazon / Barnes & Noble / Powell's / IndieBound
Lisa Morton is a screenwriter, author of non-fiction books, award-winning prose writer, and Halloween expert whose work was described by the American Library Association's Readers' Advisory Guide to Horror as "consistently dark, unsettling, and frightening." Her most recent releases include the novella By Insanity of Reason (co-authored with John R. Little) and the novel Zombie Apocalypse! Washington Deceased. She lives in North Hollywood.