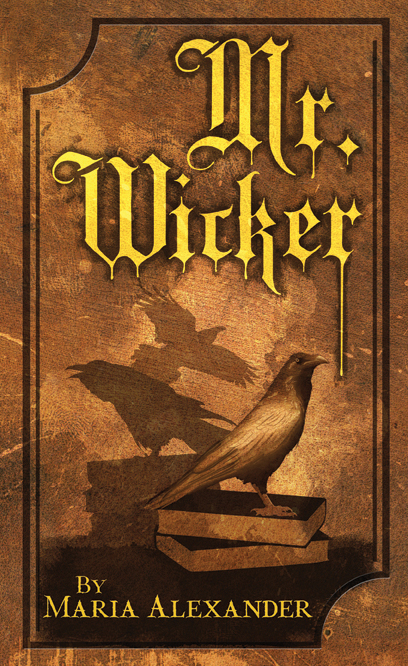 Welcome to this week's installment of The Scariest Part, a recurring feature in which authors, comic book writers, filmmakers, and game creators tell us what scares them in their latest works of horror, dark fantasy, dark science fiction, and suspense. (If you'd like to be featured on The Scariest Part, please review the guidelines here.)
It's very nearly Halloween (hooray!) and today's offering on The Scariest Part is a debut horror novel that fits the season well. My guest is author Maria Alexander, and the novel in question is Mr. Wicker. Here's the publisher's description:
Alicia Baum is missing a deadly childhood memory. Located beyond life, The Library of Lost Childhood Memories holds the answer. The Librarian is Mr. Wicker — a seductive yet sinister creature with an unthinkable past and an agenda just as lethal. After committing suicide, Alicia finds herself before the Librarian, who informs her that her lost memory is not only the reason she took her life, but the cause of every bad thing that has happened to her.

Alicia spurns Mr. Wicker and attempts to enter the hereafter without the Book that would make her spirit whole. But instead of the oblivion she craves, she finds herself in a psychiatric hold at Bayford Hospital, where the staff is more pernicious than its patients.

Child psychiatrist Dr. James Farron is researching an unusual phenomenon: traumatized children whisper to a mysterious figure in their sleep. When they awaken, they forget both the traumatic event and the character that kept them company in their dreams — someone they call "Mr. Wicker."

During an emergency room shift, Dr. Farron hears an unconscious Alicia talking to Mr. Wicker — the first time he's heard of an adult speaking to the presence. Drawn to the mystery, and then to each other, they team up to find the memory before it annihilates Alicia for good. To do so they must struggle not only against Mr. Wicker's passions, but also a powerful attraction that threatens to derail her search, ruin Dr. Farron's career, and inflame the Librarian's fury.

After all, Mr. Wicker wants Alicia to himself, and will destroy anyone to get what he wants. Even Alicia herself.
And now, let's hear what the scariest part was for Maria Alexander:
Since the inception of Mr. Wicker 17 years ago, I've faced many grim encounters both in and out of the story. But the scariest part was that I might not have lived to write the book at all.
You see, before I had the astonishing experience that ultimately inspired the book, I'd fallen into a deep despair. My health, occupation, relationships and finances — all were devastated. As a result, I was in the grip of a depression so profound that I could not see beyond the next day. Much like the protagonist Alicia Baum in Chapter 1, I felt only the cold, empty embrace of The Void. I understood Salieri's rage in the film Amadeus. I had done everything right, I thought, yet God was against me. Unlike Salieri, I had no recourse against God, no symbolic enemy to thwart. So, I turned against myself. My computer had died. The only backups I had of my stories and scripts were printouts I kept on a shelf in my bedroom. In my wounded logic, the only way to spite God would be to burn my writing. Destroying such a precious part of me would be the symbolic precursor to the next — and absolutely final — act.
Some Hamlet scholars argue that the Prince of Denmark doesn't commit suicide prior to the "To be or not to be?" soliloquy because he doesn't have enough energy. That was certainly true in my case. I was too drained to do anything, really. But more importantly, no matter how much life upturns my emotional soil, some part of me remains firmly rooted in sanity. I'm lucky. I've experienced situational depression, but never chronic clinical depression, which might have made me more vulnerable to the charms of self-destruction. If I had, you might not be reading these words. Many of my short stories, my poetry, and especially Mr. Wicker might not have ever existed. We never know the impact of our writing. This may or may not have been a great loss to some. I don't know. But I do know that my death would have affected many people. I thank the Loa every day that those thoughts never animated my actions.
This isn't some sort of Halloween-time version of It's a Wonderful Life. Rather, this is a stark testimony to the terrifying power of depression. Ever the trickster, depression hoodwinks us about the nature of reality. It suspends us in grief, convincing us that we are already dead, that the sun will never rise again. And, in a perverse way, it empowers us, telling us that we can change a hopeless situation by rooting out the "true" problem: life itself.
A bald-faced lie, to be sure. But a mind trapped like an insect in the cloudy amber of biochemical dysfunction can't see the deception.
As depression eclipsed me, I "met" Mr. Wicker in a life-changing experience. Unlike Alicia, I didn't have to die or hurt myself in any way to find him. I reveal the extraordinary true story through a brief series of puzzles, starting with the first puzzle that appears at the end of my book trailer. (Did I mention I'm also a game designer?) A couple of people have so far solved it: the first was online community guru and legendary Monkey Island game designer Randy Farmer, followed by the renowned actress and YouTube sensation Whitney Avalon. If you solve it, feel free to claim bragging rights by posting the solutions. I'm working on some kind of reward for the next person who contacts me with the answers.
Released last month, the novel is generating a good bit of critical acclaim. But even if it had never been published, meeting Mr. Wicker proved this: It doesn't matter what we lose or what we are "less." Whether we are friendless, jobless, hopeless, or even handless, it is in our lessness that we are so much more. We have so much more because, when we stand in the darkness like Alicia, embraced by The Void, our humor, imagination and spirit can finally grow.
Be well. Be safe. And, most of all, remember that, if you reach out for help, you can shatter the amber.
Maria Alexander: Website / Facebook / Goodreads / Amazon / Twitter / Pinterest
Mr. Wicker: Amazon / Barnes & Noble / Raw Dog Screaming Press
Maria Alexander is a produced screenwriter, published games writer, virtual world designer, award-winning copywriter, interactive theatre designer, fiction writer, and poet. Her short stories have appeared in acclaimed publications alongside living legends such as David Morrell and Heather Graham. Her debut novel, Mr. Wicker, was released by Raw Dog Screaming Press in September 2014. Publishers Weekly calls it "…(a) splendid, bittersweet ode to the ghosts of childhood." Naming it Debut of the Month, Library Journal gave it a Starred Review and called it "a horror novel to anticipate." When not wielding a katana at her Shinkendo dojo, Maria is being outrageously spooky or writing Doctor Who filk. She lives in Los Angeles with two ungrateful cats and a purse called Trog.