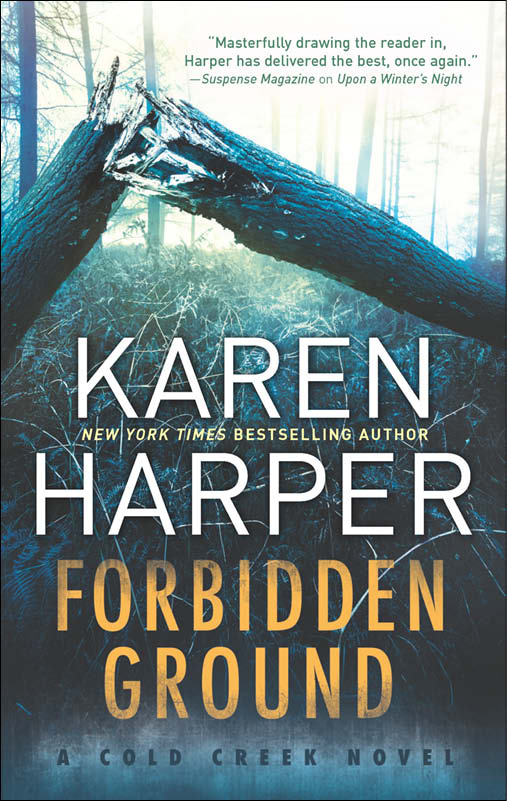 Welcome to this week's installment of The Scariest Part, a recurring feature in which authors, comic book writers, filmmakers, and game creators tell us what scares them in their latest works of horror, dark fantasy, dark science fiction, and suspense. (If you'd like to be featured on The Scariest Part, please review the guidelines here.)
My guest is New York Times bestselling author Karen Harper, whose latest novel is Forbidden Ground, part of the Cold Creek series. Here is the publisher's description:
Let the dead stay dead…

Despite a traumatic childhood in Cold Creek, Ohio, the Lockwood sisters have reunited there for the wedding of youngest sister Tess to the town's sheriff. Maid of honor Kate Lockwood is determined to break through best man Grant Mason's defences. An anthropologist, Kate makes her living studying the dead. She is particularly interested in the prehistoric Adena civilization that once called the area home. A large burial mound sits on Mason family land, and Kate wants permission to excavate. But Grant refuses and tells Kate to stay away from the mound.

Kate respects Grant's desire to honor his grandfather's belief that the dead should not be disturbed. However, the more she researches the more it becomes clear that Grant is hiding something. When one of Grant's friends is killed — and the sheriff is away on his honeymoon — the couple joins forces to assist the deputy in the investigation.

When Kate comes under attack she is certain it is connected to the burial mound. Grant seems concerned for Kate's safety, but despite their explosive attraction she can't help but be suspicious of his motives. Can Kate trust the man she's come to love, or will the wrong decision be her final act?
And now, let's hear what the scariest part was for Karen Karper:
As a child I was terrified by those old "mummy" movies or any about the dead stalking the living. Even today, I can't stand to look at zombie movies. But the Egyptian cult of the dead with its elaborate tombs with sacrificed slaves and gifts meant for the afterlife still fascinates me.
So I was totally intrigued when I learned that there was an ancient society which left burial mounds with preserved bodies and artifacts throughout Ohio, where I grew up, live and write. This prehistoric Adena culture was perfect for my suspense novel, Forbidden Ground. But as I researched and wrote, I had to fight to keep myself from being, as we say in the heart of Ohio, "creeped out."
Kate Lockwood, my heroine, is an archeologist who is desperate to lead a dig in what she believes is a major, untouched Adena tomb. But it's on private property, and she can't convince Grant Mason, the owner — her love interest too — to permit this. "Let the dead stay dead," he tells her, his family motto started by his grandfather and father who once protected the tomb. But is he really hiding something else in there? As Kate works to sway Grant to her obsession, she starts to either imagine or experience visits from the dead interred in the tomb.
The Adena people are quite mysterious in their origin as well as in their mortuary practices. Early Ohio pioneers and some archeologists excavated Adena tombs and found corpses of their elite laid out on beds, surrounded by sacrificed slaves and relics. The most famous of the artifacts is called The Adena Pipe and has been recently named the state's official artifact.
Named for a site where many remains were found, the prehistoric Adena left their burial mounds from the East Coast of the U.S. to the Mississippi River, where they flourished, then mysteriously disappeared. Remember that old 1970s book and movie Chariots of the Gods, which claimed brilliant ancient cultures could be the result of alien visitations? I'm not claiming that, but what a thought — maybe for another book, another time.
But the scariest part inForbidden Ground comes when Kate enters the tomb, and not of her own volition. Not only is there the danger of a cave-in, but the sights and smells in the tomb, and its possible still-living presences, hit her hard. It is the culmination of her dreams, but may also be the culmination of her life.
I felt I was trapped there with her and hope my readers do too.
Karen Harper: Website
Forbidden Ground: Amazon / Barnes & Noble / Powell's / IndieBound

Karen Harper is the New York Times bestselling author of contemporary suspense and the historical thriller, Mistress of Mourning. Forbidden Ground is the middle book in her edge of Appalachia trilogy, The Cold Creek Novels. Winner of the Mary Higgins Clark Award, Harper divides her time between Ohio and Florida. She is dying to excavate the two Adena mound tombs in Highbanks Park near her home, but, alas, she's only a former Ohio State University instructor of English, not archeology.