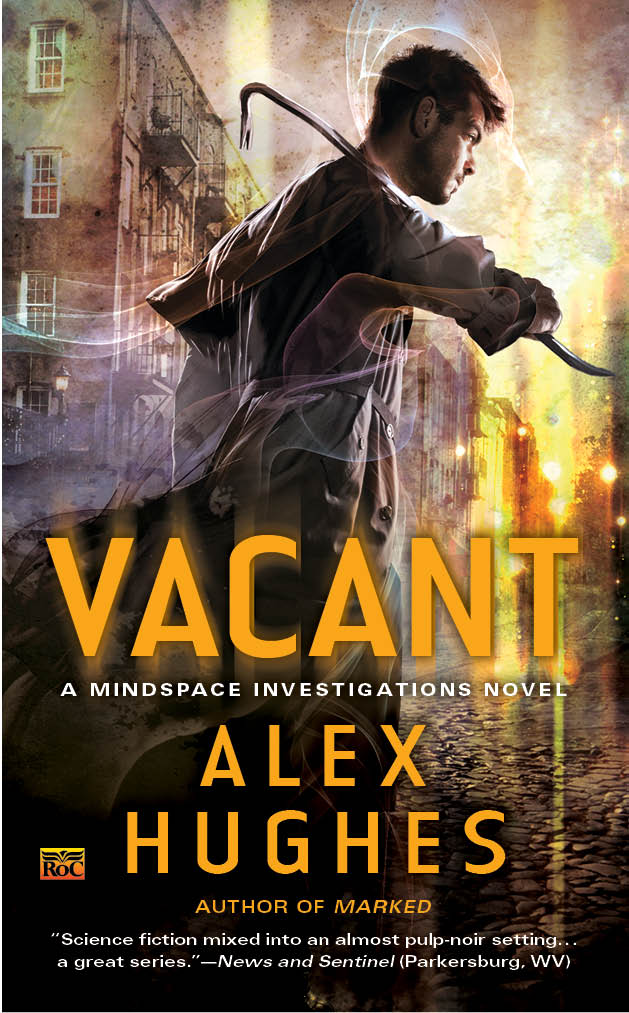 Welcome to this week's installment of The Scariest Part, a recurring feature in which authors, comic book writers, filmmakers, and game creators tell us what scares them in their latest works of horror, dark fantasy, dark science fiction, and suspense. (If you'd like to be featured on The Scariest Part, please review the guidelines here.)
We're doing something a little different on The Scariest Part. This week, we're part of author Alex Hughes's month-long blog tour in celebration of the release of Vacant, the fourth volume in the award-winning Mindspace Investigations series. And we'll also be offering our very first e-book giveaway and taking part in an exciting blog tour scavenger hunt based on the board game Clue. You'll find the details of both down at the bottom. But first, here is the publisher's description of Vacant:
Nothing ruins a romantic evening like a brawl with lowlifes — especially when one of them later turns up dead and my date, Detective Isabella Cherabino, is the #1 suspect. My history with the Atlanta PD on both sides of the law makes me an unreliable witness, so while Cherabino is suspended, I'm paying my bills by taking an FBI gig.

I've been hired to play telepathic bodyguard for Tommy, the ten-year-old son of a superior court judge in Savannah presiding over the murder trial of a mob-connected mogul. After an attempt on the kid's life, the Feds believe he's been targeted by the businessman's "associates."

Turns out, Tommy's a nascent telepath, so I'm trying to help him get a handle on his Ability. But it doesn't take a mind reader to see that there's something going on with this kid's parents that's stressing him out more than a death threat…
And now, let's hear what the scariest part was for Alex Hughes:
[Note: this post contains light spoilers.]
There were a lot of things about Vacant that scared me. First, taking Adam away from his comfort zone in Atlanta with Cherabino and police was incredibly scary. This character had defined himself for so long by other peoples' expectations that breaking out of those put him in a cold sweat. I had to step back as a writer and ask myself some very difficult questions. What really makes Adam tick? And the answer, surprisingly enough, was fear.
Adam is terrified of failing, and more precisely, of being a failure. This is a fear that I've found in the mirror all too often, and the worst part about this fear is that it can never truly be banished. What if they find out I'm not really that good? What if I fall on my face and screw up? Adam's fears in the book echoed my fears as I struggled with the book without the comforting repartee with Cherabino. I was terrified that I would screw this book up and not be able to write it, and Adam was terrified that he would fail Tommy, and that Tommy would die like he saw in the vision.
The strange part about Adam, as I got deeper into the book, the strange part about fear, is that there hits a point where you can no longer be any more afraid than you currently are. Adam looked into the very face of his death — and I, into the face of my struggles with the page — and we both found something more important than the fear. Having decided to move forward, having decided that we would finish, no matter the cost, the fear became less important. The mission became everything. If we failed, we failed. We must continue, if our minds bled from it.
I was certain at many points in the draft that Tommy would die. That Adam would have to face his real fear of failure, even if it meant he'd fall off the wagon. He would have to find himself lacking, and the world dim and small and horrible. If Tommy died, then nothing Adam did — nothing — would ever make him look himself in the mirror the same way ever again. And I was sure it was going to happen, certain in a way that made my heart pound and my stomach churn. Certain, in a way you only get from an outline and a heavily foreshadowing vision of the future. Nothing I could do — nothing — would save the boy I'd come to love.
And then the last piece, the worst piece. Tommy's mother, who is no hero. To get inside her head, to crawl inside the skin of a woman like that (vague only to keep the spoilers minimal) — I had to embrace one of my personal definitions of petty evil, and understand what it was to be her. That was the scariest part of all. To know that Adam would be destroyed, a boy may die, a vision may come to pass in the worst possible way, and to get inside the head of a person who had played a huge part in it for ill — that was scary. Because it was true. I could be her, given enough time and choices. I could.
And I could be the boy, facing a known killer for hire who liked to play with his victims, a man who strangled face-to-face, slowly.
And I could be Adam, seeing it coming and powerless to stop it. I could be Adam, who I thought might fail, and be a failure.
This was a very scary book for me to write. The scariest part was understanding.
Alex Hughes: Website / Facebook / Twitter
Vacant: Amazon / Barnes & Noble / Powell's / IndieBound
Alex Hughes, the author of the award-winning Mindspace Investigations series from Roc (the latest of which is Vacant), has lived in the Atlanta area since the age of eight. She is a graduate of the prestigious Odyssey Writing Workshop, and a member of the Science Fiction Writers of America and the International Thriller Writers. Her short fiction has been published in several markets including EveryDay Fiction, Thunder on the Battlefield and White Cat Magazine. She is an avid cook and foodie, a trivia buff, and a science geek, and loves to talk about neuroscience, the Food Network, and writing craft — but not necessarily all at the same time!
Alex Hughes's ongoing scavenger hunt Clue game ends on December 24th. The scavenger hunt checklist can be found here. For those playing, here is the latest clue: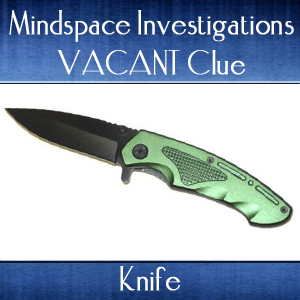 (Update 12/23/14: The giveaway is now CLOSED!)
GIVEAWAY (Worldwide): Win an E-Book Copy of Any Mindspace Investigations novel by Alex Hughes — winner's choice! (That includes Vacant, the latest novel!)
Here are all the details:
1) Leave a comment below to enter for a chance to win. Specify which Mindspace Investigations novel you'd like, and your preferred e-book format: epub or mobi.
2) Geographic restrictions: This giveaway is open to everyone worldwide. All you need is a valid email address to receive the e-book should you win.
3) This giveaway will end on Tuesday, December 23rd, 2014 (9:00 PM U.S. Eastern Time). The lucky winner will be selected at random, notified, and announced shortly thereafter.