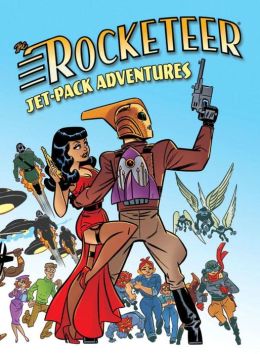 I haven't seen many reviews of the IDW anthology The Rocketeer: Jet-Pack Adventures around the Internet, but one from DVD Corner just hit my radar, despite being a few months old now. It's a mixed review, but my story, "The Mask of the Pharaoh," is given some kind words:
Nicholas Kaufmann's "Mask of the Pharaoh" is a well written whodunit involving Betty starring in a mummy movie, an alleged prop Egyptian mask, and murder. Not only does this story perfectly fit the Rocketeer era, but it's also a clever throwback to old school Hollywood and classic horror films.
If you love the Rocketeer and want to read all-new adventures written by the likes of me, Yvonne Navarro, Gregory Frost, Nancy Holder, Nancy A. Collins, Cody Goodfellow, and lots more, why not pick up a copy with that inevitable Amazon gift certificate you're going to get for Christmas tomorrow?