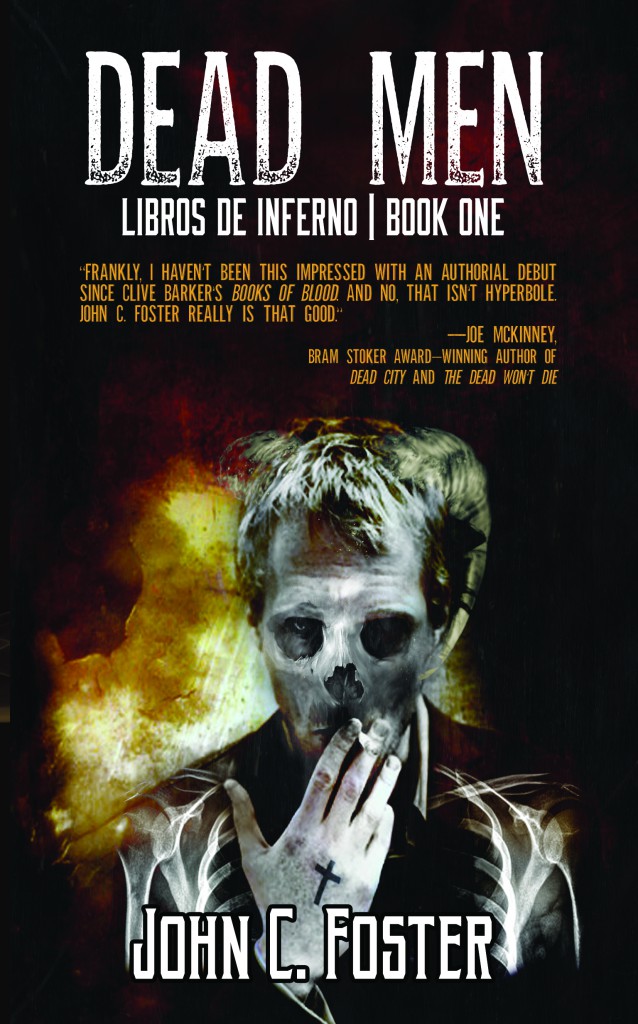 This week on The Scariest Part, my guest is John C. Foster, whose debut novel is Dead Men. Here's the publisher's description:
Roaring south in a black Cadillac, John Smith is on the road trip from Hell through a nightmarish version of Americana, a place of rotting hollows and dusty crossroads, slaughterhouses and haunted trains. He doesn't know how he woke up after sitting down in the electric chair, where he got the black suit with the slit up the back or even the cigarettes in his pocket. All he knows is that there is a woman guarding a great secret and he's supposed to kill her.
And now, let's hear what the scariest part was for John C. Foster:
I write about scary things. I enjoy reading about scary things and Dead Men has accurately been described as a nightmare. But nightmares don't scare me much. I have them all the time, shake 'em off and get on with the serious business of sleeping.
Making the decision to write a first novel was certainly scary, but mixed in with that fear was profound relief. After decades of toiling away in public relations and making a few forays into screenwriting, I was finally attempting what I had long said was my defining goal.
That first, blank page is fucking daunting, to be sure. Mixed in with that kind of fear was the certainty that I was an idiot. I'd never finish. I had no idea what I was doing. But the exhilaration of cracking the twenty-page mark and being so excited I had to call my gal in the middle of the workday just to share the news? That stuff knocks opening page jitters to the ground and kicks sand in its face.
Writer's block left me wandering in confusion for weeks with no idea how to get back on track. It filled the pit of my stomach with a dull ache of unease. But I learned how to climb past that one and was gifted with not only moving forward in the story, but a bit more confidence. A sense of almost suffering a knock out in round five but coming back strong before the bell. I knew I'd get hit again but also that I might have a boxer's chin. I might be able to take it.
And then one day I was done. I rewrote. Enter drudgery, but drudgery isn't scary. And if you're like me, you're so intensely focused on this last phase that you have no idea the closet door is swinging open behind you to reveal something tall with knuckles that drag the ground and teeth built to crack bone.
Wham-bam, several drafts were done and it was time to get my book published. To send it out to people that weren't trusted beta readers. To have it read by unknown folks who might be cruel, might confirm all those fears I thought I'd left behind. I was no longer in control. This bird had to fly on its own and I understood that for all of my newfound confidence, I had no idea if all this working and dreaming and learning had produced a book that was any good.
Terror.
Look, I'm a nobody without a literary pedigree or circle of publishing contracts. I had no way to shave the odds in my favor. Dead Men had to make it, be judged as a good book, all on its own.
That big thing from the closet was all over me.
Here's the thing, having a novel published is something I had always held out before me to give me some hope in rough times, some excitement about the future. I realized at this point how much of my marrow coursed with this wish and was fearful of what might happen if the book face-planted. I was attending some writer's events by this point and experienced the solid shock of reality. About writing one, two, three books before a publisher said, "Yes." If they ever said, "Yes." I was terrified that in my forties I didn't have any reserves of foolhardy strength left if the publishing world told me my book was shit.
I began submitting it to a publisher here or an agent there. Carefully. Professionally.
I heard crickets.
Then my dad died and I lost any ability to combat this fearful phase. I put the book away and fled into my next novel, The Isle, where I drew on the pain of divorce and maybe drained a little of the wound from my dad's passing. It was a long and internal book where I applied the lessons learned in writing Dead Men. I kept my eyes on the page and studiously avoided looking at the big scary thing salivating in the closet behind me.
Months later, maybe a year later, there's a lot of haze in that part of my memory, I opened up Dead Men and wondered if I could shave a few thousand words. I did that and submitted it to Perpetual Motion Machine Publishing before continuing revisions on The Isle.
They said, "Yes."
Not too long after, a second publisher said yes to a novel entitled Mister White. Two books were going to be published in the same year. The Isle has mostly sat unread but I plan to kick it out of the nest soon and give it a shot.
The fear isn't gone but it's not so big any more. I can take it.
John C. Foster: Website / Facebook / Twitter
Dead Men: Perpetual Motion Machine Publishing / Amazon / Barnes & Noble / Powell's / Kobo
John C. Foster was born in Sleepy Hollow, NY, and has been afraid of the dark for as long as he can remember. A writer of thrillers and dark fiction, Foster lives in New York City with his lady, Linda, and their dog, Coraline. Dead Men is his first novel and was published by Perpetual Motion Machine Publishing in July 2015. His second novel, Mister White, will be published by Grey Matter Press later this year.