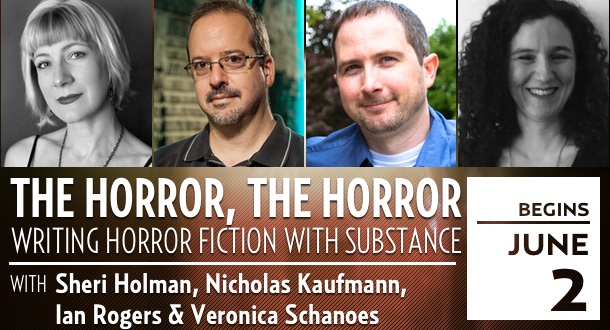 Look at that group of exciting, attractive authors up there — and also me! Yes, that's right, I'm co-teaching another LitReactor class this year as a fundraiser to benefit the Shirley Jackson Awards!
I did it last year, too, and was really blown away by the talent and enthusiasm of the students. So when they asked me to teach again, I said yes right away. My fellow teachers this year will be Sheri Holman, Ian Rogers, and Veronica Schanoes — all exceptionally talented authors!
Go to the LitReactor class page to get all the details and to sign up! You won't want to miss this, and it helps support a great cause!
Also, now seems like a good time to remind you that Dark Discoveries magazine #34 is available, featuring my story "Whatever Happened to Solstice Young?" I think this particular story is a good example of what the LitReactor class is trying to accomplish: it goes beyond the usual horror tropes (in this case, vampires) and gross-outs to examine the nature of memory, nostalgia, and sexual awakening. Go buy a copy and check it out!