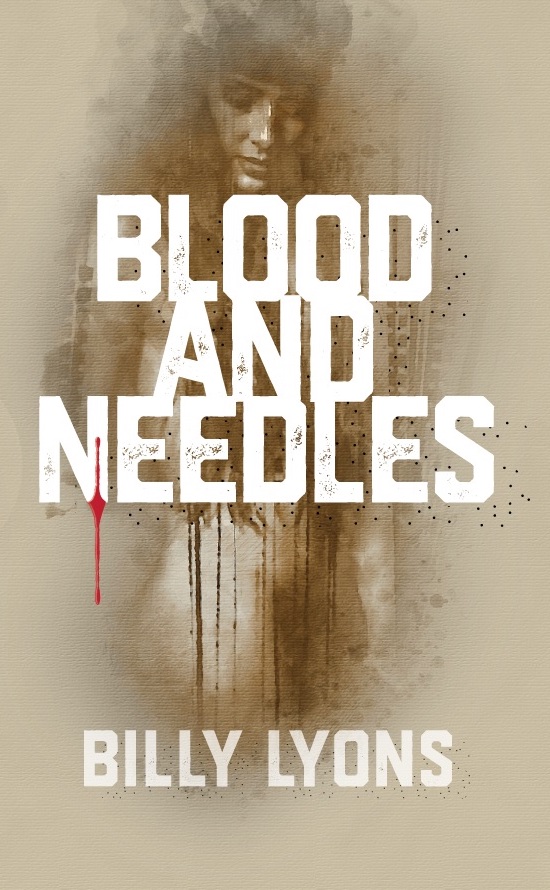 This week on The Scariest Part, my guest is author Billy Lyons, whose debut novel is Blood and Needles. Here is the publisher's description:
The last person 25-year-old junkie, Steven Jameson, expected to meet was Anna Marie, an alluring stranger who turns out to be a fellow junkie . . . and a vampire. Anna Marie senses an inner steel deep inside Steven, and offers him a membership in the seductive world of The Morphia Clan, a group of vampires as devoted to using narcotics as they are to drinking blood. Steven soon falls in love with Anna Marie, whose vampire throne is threatened from outside forces and from within. There are hidden dangers everywhere, and treachery and betrayal lie just around every corner. Soon Steven finds himself not only in a fight to save his own life but also the life of the vampire he loves.
And now, let's hear what the scariest part was for Billy Lyons:
Blood and Needles is the story of Steven Jameson, a junkie who lives on the streets of Orlando and finances his habit by robbing tourists. One Saturday night he's preparing to do this very thing when he runs into Anna Marie Jennsen. It turns out that Anna Marie isn't just a fellow addict, but the leader of a family of vampires who love shooting up as much as drinking blood.
Steven joins the ranks of the undead degenerates, and while he's sleeping away his first day as a vampire, he has a very unsettling dream. It begins pleasantly enough, with him floating languidly along a waterway of blood. As he drifts along, he dips his head into it from time to time and takes a sip, but it isn't long before things turn ugly. The blood begins to congeal, and its smell changes from savory to sickening. In a matter of minutes, the blood clots completely, and he's trapped. That's when things get ugly.
The naked, bloated bodies of his deceased family members emerge from the blood. They point lifeless fingers at Steven, and make accusations that that cut him to the quick.
"Steven, you stole pain medication from me. My cancer hurt so bad." Grandma.
Before Steven can reply, his relatives are joined by hundreds more of the undead, each one a victim of Steven's addiction. They rush forward and begin to chew away his flesh.
As if this wasn't bad enough, Steven's twin brother Allen (the person he loved most during his human existence) rips off one of Steven's fingers and throws it high in the air. Buster, the family border collie, catches the finger in his mouth. Allen casts an evil grin at Steven, and with a wink says "Good boy, Buster!" Steven loses it completely, and screams himself awake.
When I first wrote this scene, I had to wonder if I wasn't more than a little bit disturbed, and the fear it invoked stayed with me longer than anything else I'd written. I'd recently lost my older brother to a sudden heart attack, and my beloved miniature dachshund, Theodore, died around the same time from old age. The similarities between Steven's grief and my own, combined with the fact that it's just a scary freaking dream, made the experience of writing it quite terrifying. I did notice, however, that my grief had lessened somewhat afterwards, as crazy as that may sound. Call it catharsis through cannibalism.
Steven's dream is brutal, frightening, and disturbing, but so is the world of the hardcore addict. As a vampire, Steven might find inner peace, but he must first deal with this little bit of leftover baggage from his human life. As a writer, creating the dream helped me deal with my own.
Blood and Needles: Amazon / Barnes & Noble / Powell's / IndieBound
Billy Lyons: Facebook / Twitter
Billy Lyons is the author of two published short stories. "Cell 334" was featured in the November 2014 edition of Another Realm magazine. "Black-Eyed Children, Blue-Eyed Child" was published in High Strange Horror, a 2015 horror anthology from Muzzleland Press. His latest, "Sheep and Snakes," will be featured in Two Eyes Open, a horror anthology due to be released in August by MacKenzie Publishing. Blood and Needles is Billy's debut novel. Follow Billy on Facebook for giveaways, personal appearances, and current writing projects.