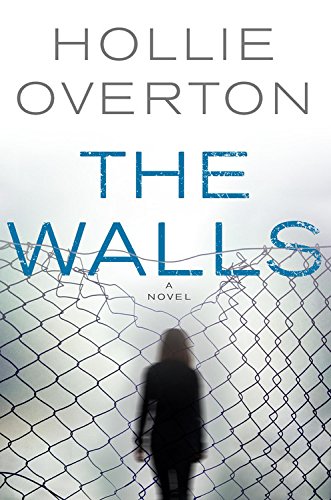 This week on The Scariest Part, my guest is author Hollie Overton, whose new novel is The Walls. Here is the publisher's description:
A heart-stopping psychological suspense novel about a Texas prison official driven to commit the perfect crime, by the author of the international bestselling thriller Baby Doll.

WOULD YOU KILL TO PROTECT YOUR FAMILY?

Working on death row is far from Kristy Tucker's dream, but she is grateful for a job that allows her to support her son and ailing father.

When she meets Lance Dobson, Kristy begins to imagine a different kind of future. But after their wedding, she finds herself serving her own life sentence — one of abuse and constant terror.

But Kristy is a survivor, and as Lance's violence escalates, the inmates she's worked with have planted an idea she simply can't shake.

Now she must decide whether she'll risk everything to protect her family.

Does she have what it takes to commit the perfect crime?
And now, let's hear what the scariest part was for Hollie Overton:
When I began writing my second novel, The Walls, I alternated between feeling incredibly inspired and consumed with anxiety. The expectation of whether I could write another book, and if I did, whether it would be as well received, weighed on me. But eventually I realized the only thing I could control was the writing. Focus on that and everything else will fall into place. I set out to do that with The Walls but life had other plans. The scariest part of writing this book was coping with one of life's greatest losses.
My mother, Betty Overton, was a domestic abuse survivor. She married my father and adopted my twin sister and I when we were just six days old. By the time we were four, his addictions and violent temper were spiraling out of control and her only choice was to walk away. When I first had the idea for The Walls, about a woman who marries a violent man and must find a way out, I thought a lot about my mom and that sacrifice she made, giving up the man she loved for the love of her children.
In the midst of writing The Walls, my mom's health took a turn for the worse. A lifelong smoker, she'd been plagued with health issues, her lungs ravaged, each breath a struggle. But she always remained upbeat and positive, finding the bright spot in each and every day. When that flash of fear bubbled up about whether the book was any good and if I'd make my deadline, I reminded myself of my mother's fighting spirit. She rarely complained about being trapped inside her home, trapped inside her own body, unable to walk more than a few feet at a time without getting winded. In Mom's words, I needed to "get over myself."
When I wasn't working, I would head over to her place. We'd cook dinner or order takeout, then curl up to watch our favorite TV shows and movies, pausing every few seconds to share anecdotes. I always hated leaving Mom, but with deadlines looming, I had no choice. She'd wave off my apologies, reminding me how lucky I was to do a job I loved, a job that allowed me to care for her. With Mom's words echoing in my head, I'd return to my laptop, eager for her to see the finished product.
Unfortunately, my mother passed away two days after I delivered the final manuscript to my editors. Guilt consumed me those first few weeks. I couldn't stop thinking about all the time I missed out on, time I'd spent writing instead. Whenever I get too melancholy though, I'm reminded of one of our final phone calls. I was working on edits and had promised to drop by but I wasn't finished yet. I just needed one more day and then I'd come by and see her. I was emotional, knowing she wasn't doing well, but not at all aware that our time together was running out. Despite my tears, Mom wasn't having it. "Hollie, you're being ridiculous. I didn't raise you to live your life for me."
My mom's greatest wish was to see me succeed. Each time a new writing dream comes true, I know she's cheering me on. The Walls is dedicated to my mom, the person who taught me to be brave, taught me how to write through fear and how experiencing death, the scariest thing there is to face can teach you a lot about life. My mom may be gone but thanks to her influence, I have plenty of stories left to tell.
The Walls: Amazon / Barnes & Noble / Powell's / IndieBound
Hollie Overton: Website / Facebook / Twitter / Instagram
Hollie Overton was raised in Texas, and draws on her unique childhood experiences for inspiration. Her father was a member of the notorious Overton gang in Austin, and served time in prison for manslaughter. Hollie is a television writer whose credits include the CBS drama Cold Case and Freeform's Shadowhunters. Her debut novel, Baby Doll, was an international bestseller, and has been translated into eleven languages. She lives in Los Angeles with her husband and rescue dog.