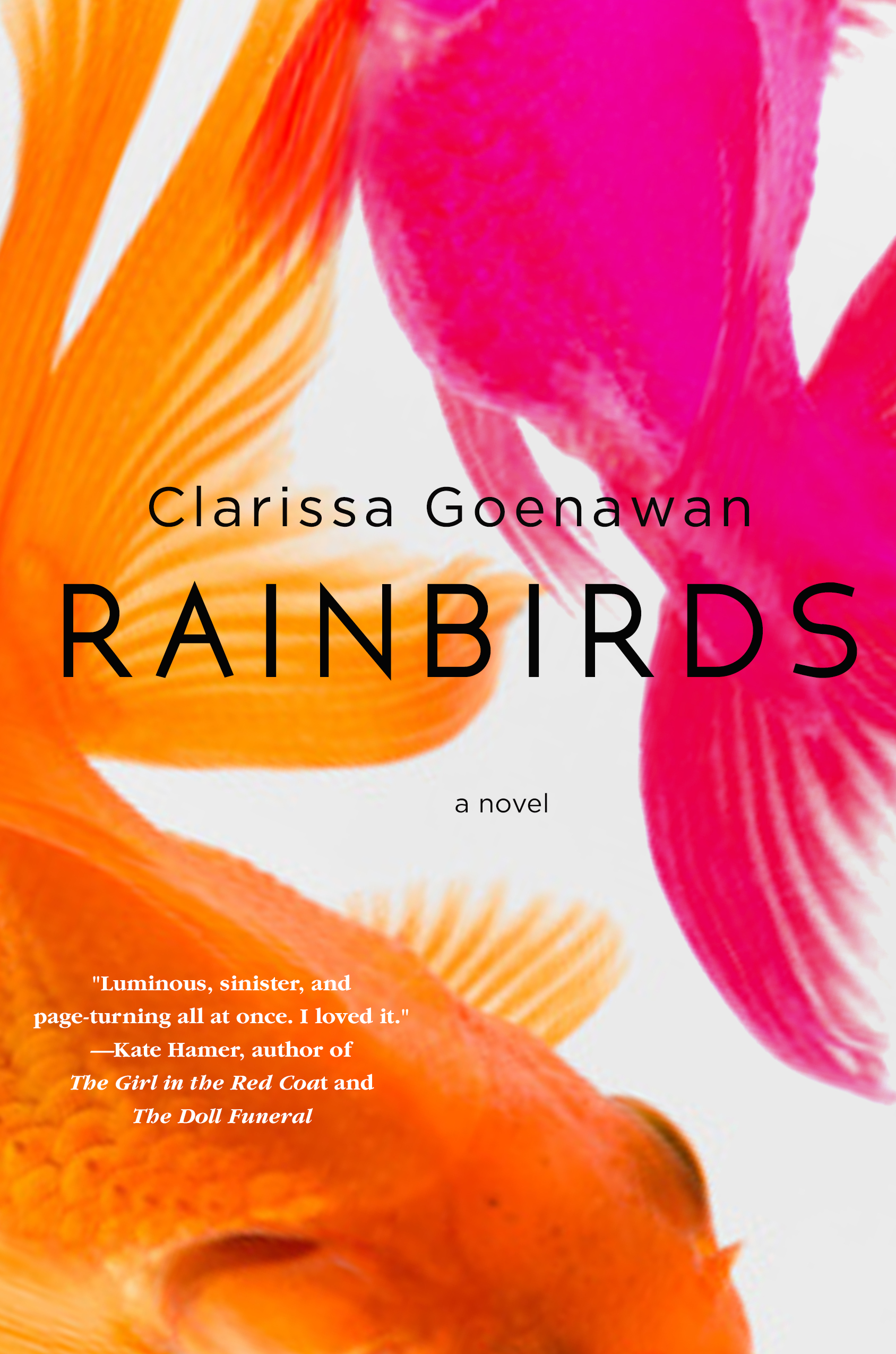 My guest this week on The Scariest Part is author Clarissa Goenawan, whose debut novel is Rainbirds. Here is the publisher's description:
Intertwining elements of suspense and magical realism, award-winning literary debut Rainbirds opens with a murder and shines a spotlight on life in fictional small-town Japan.

Ren Ishida is nearly done with graduate school when he receives news of his sister, Keiko's, sudden death. She was viciously stabbed one rainy night on her way home, and there are no leads. Ren heads to Akakawa to conclude his sister's affairs, failing to understand why she chose to abandon their family and leave Tokyo for this small town in the first place.

But Ren soon finds himself picking up right where Keiko left off, accepting both her teaching position at a cram school and the bizarre arrangement of free lodging at the wealthy Mr. Katou's mansion, in exchange for reading aloud each morning to Katou's depressed, mute wife. As Ren gets to know the figures in the town, from the mysterious Katou to fellow teachers and a rebellious, alluring student named Rio, he replays memories of his childhood with Keiko and finds his dreams haunted by a young girl with pigtails who is desperately trying to tell him something. Struggling to fill the void that Keiko has left behind, Ren realizes that perhaps people don't change, and if they don't, he can decipher the identity of his sister's killer.
And now, let's hear what the scariest part was for Clarissa Goenawan:
I started writing Rainbirds when I was twenty-five — just a year older than my narrator, Ren Ishida. We had a couple of things in common. One of them is this: both of us were facing a lot of uncertainties.
In Rainbirds, Ren was about to finish his graduate studies. He'd gone to a prestigious university but had no idea what he kind of career he wanted to pursue after graduation. In addition, his long-time girlfriend was pressuring him to settle down. (For a certain type of person, this can be very scary indeed.) But one rainy night, his older sister got murdered. Thirty-five-year-old Keiko Ishida — who, in Ren's words, "had a sweet disposition, quite a slim frame, and the air of someone with a good upbringing," and, "was the type of woman the average salaryman wanted as his wife" — was brutally knifed to death. The mystery surrounding her death propelled him into tracing her old life, and that became his main focus.
As for me, at that time, I'd just left a lucrative job in banking sales to take a sabbatical. Supposedly it was a year-long break, but also, it was my desperate last attempt to achieve my childhood dream. I'd always want to be a writer.
But the writing path is a long and winding road (not being dramatic, because this is so true!). You need to put in the hours. Long hours. It's all hard work, and I faced a lot of pressures, from well-meaning friends who asked, "When are you going back to work?" to relatives who chided me for spending too much time on my 'hobby'. All of those, coupled with rejection after rejection, were so demoralizing. Apart from hard work, publishing also requires an element of luck.
Being in our mid-twenties is a very delicate phase. It's a crucial phase that will probably shape the rest of our lives. What kind of career would we pursue, who we settle down with… stuff like that. We're expected to be old enough to make these important decisions. But at the same time, we probably don't know enough.
The year is 2018, and I'm twenty-nine now. Very close to thirty.
Right now, this is what I want to say:
If you're in your mid-twenties and feeling overwhelmed, you're not alone. It's common to feel clueless and confused. I don't know what your situation is, but just do your best. Your very, very best. So you won't have any regrets.
Or perhaps, you're a writer in the beginning of your career, still struggling and questioning yourself. Even though the dark tunnel does feel endless, if you never give up, one day your dream might just come true.
And talking about luck, I heard she favours those who work really, really hard.
Rainbirds: Amazon / Barnes & Noble / Powell's / IndieBound / Book Depository
Clarissa Goenawan: Website / Facebook / Twitter / Instagram / Goodreads
Clarissa Goenawan is an Indonesian-born Singaporean writer. Her award-winning short fiction has appeared in literary magazines and anthologies in Singapore, Australia, the UK, and the US. Rainbirds is her first novel.