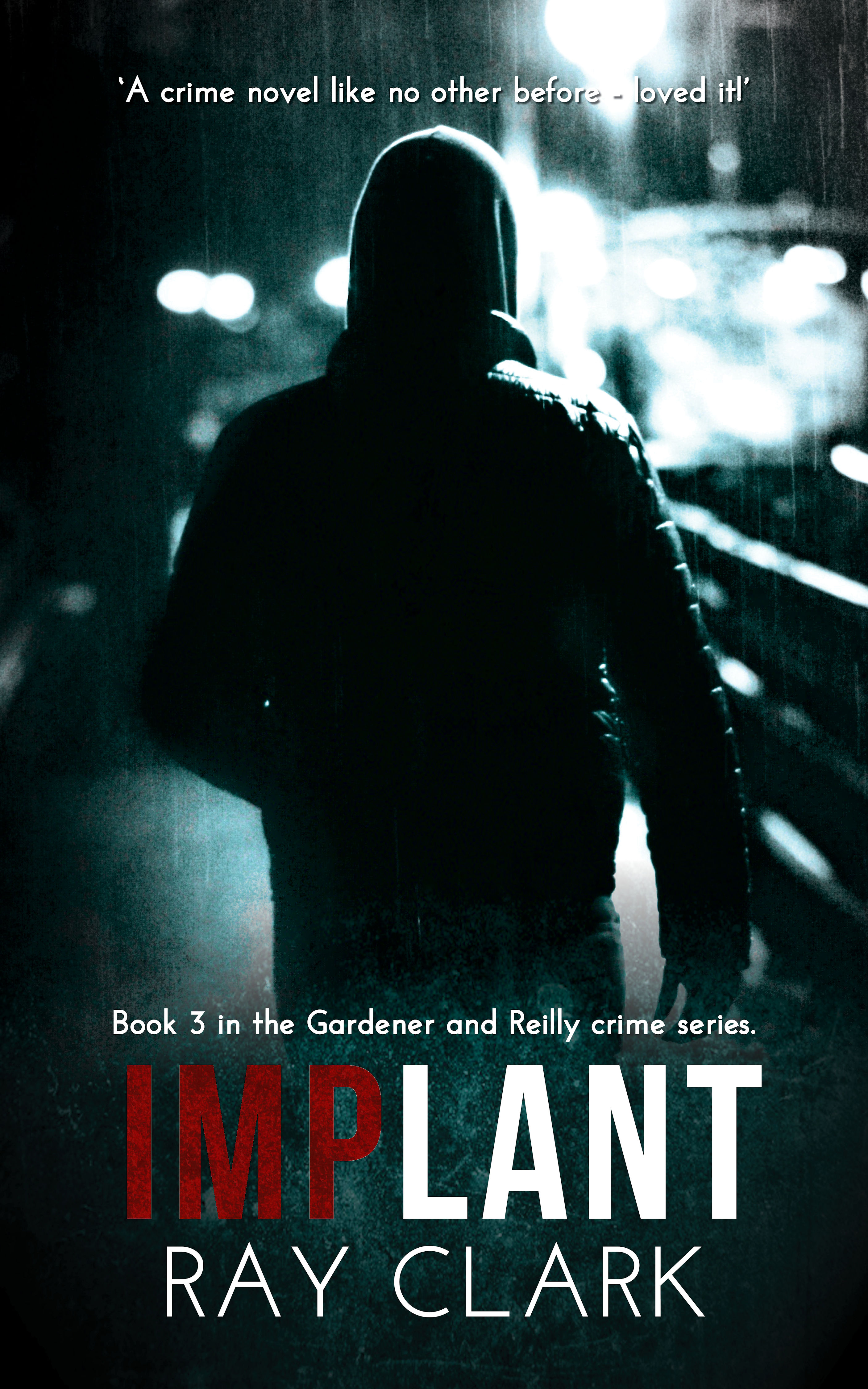 My guest this week on The Scariest Part is author Ray Clark, whose new novel is Implant. Here is the publisher's description:
Bramfield, near Leeds, a sleepy little market town nestled on the borders of West and North Yorkshire. Detectives Stewart Gardener and Sean Reilly discover the naked corpse of Alex Wilson, nailed to the wall of a cellar in his uncle's hardware store. His lips are sewn together and his body bears only one mark, a fresh scar near his abdomen.

Within forty-eight hours, their investigation results in dead ends, more victims, no suspects and very little in the way of solid evidence.

Gardener and Reilly have a problem and a question on their hands: are the residents of Bramfield prepared for one of history's most sadistic killers, The Tooth Fairy? The detectives race against time to stop the trail of horrific murders…
And now, let's hear what the scariest part was for Ray Clark:
I had a good think about the scariest part of the novel, and I even spoke at length to my editor about it and we both came to pretty much the same conclusion. I don't think there is anything in Implant that falls in the really scary category, particularly not in the sense of a heart-pounding, jump out of your skin, nearly mess yourself, scary moment.
However, I think the overall concept of notbeing in control of any given situation is a particularly frightening one. As human beings we all like to control our environment, even if it's something as simple as having friends over for dinner and you suddenly start to realize that you're making a mess of a relatively simple meal you've cooked a dozen times or more. Running late for a meeting is another good example of losing control: you're stuck in traffic, you've lost signal on the mobile and shortly afterwards you start to lose it. So, there are varying degrees of loss, most of which we can overcome. But if you are threatened by someone who has imprisoned you, is going to kill you, and who takes their time to explain how and why they have you, and what they're going to do, that's a whole different ball game: a brand new level of fear. As things progress, you can see that no matter what you do, there is no way out. Given that scenario, I imagine your heart will start to pound, very rapidly. As a writer you can control that situation perfectly by concentrating on your own fears before transferring them to the page.
There are definitely two very intense horrific scenes in Implant that fall into that category. They instill a sense of fear in the creeping-dread-of-what-is-about-to-happen sense. Both include victims who are isolated but treated in very different ways. With one, it's a long drawn out affair in which the victim is held captive, and being forced — in a unique way — to part with information; the other is a scene set in the waiting room of a small country railway station. I take quite a bit of time throughout the novel to explain the gentle, rural setting where life is lived at a slower pace, with a small-town, tranquil yesteryear feeling. And then, suddenly, out of nowhere, I describe what I believe to be an extremely cringe-inducing, spine-creeping scene that the police are faced with. All along, you instinctively know that no matter what they do — or attempt to do — things are going to end very badly for the victim. Hopefully, the rising panic the scene invokes causes a sense of fright in the dreaded anticipation of what is coming.
Even whilst I was writing it I could sense it all perfectly, and despite what I was doing, and the fact that I was also starting to inwardly feel uncomfortable, I couldn't stop myself. I wanted to make sure that everyone who reads that scene feels as I did — or maybe even as stressed out as the victim.
Implant: Amazon / Barnes & Noble / IndieBound / Press Release & Official Trailer
Ray Clark: Website / Facebook / Twitter / Amazon Author Page
Ray Clark's first published work in 1995 was a 3,000 word essay on the author Graham Masterton, with The British Fantasy Society for one of their in-house magazines. A book length adaptation, Manitou Man, followed in 1998. Ray is the author of several stand-alone horror and crime novels including, The Priest's Hole (May 2012) and Seven Secrets (Jan 2015), published by Damnation Books. Calix (Nov 2012) and two short story collections, A Devil's Dozen (Dec 2013) and A Detective's Dozen (June 2015), published by Double Dragon books of Canada. Ray's first full-length crime novel, Impurity, was published by Caliburn Press in 2016. The second, Imperfection, followed in March 2017 from Urbane Publications. Endeavour Press also released Ray's stand-alone horror novel, Resurrection in June 2017. Implant is book 3 in the IMP series, published by Urbane Publications.