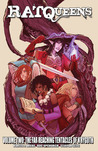 Rat Queens, Vol. 2: The Far Reaching Tentacles of N'rygoth by Kurtis J. Wiebe
My rating: 5 of 5 stars
I read the first volume of RAT QUEENS nearly a year ago, so I was delighted to finally return to these amazing, hilarious characters and their vividly-drawn world! In this volume, Sawyer has been kidnapped by a vengeful wizard and it's up to the Rat Queens to rescue him, although it's hard to know which will complicate things more: the mind-warping demons the wizard has summoned to destroy Palisade, or Hannah's knotty feelings about her on-again-off-again relationship with Sawyer. As always, the diminutive Betty steals all her scenes, and somehow Violet is even more beautiful with a beard. With great characters, humorous, raunchy dialogue, and dynamic art by Roc Upchurch and Stjepan Sejic, RAT QUEENS does not disappoint!