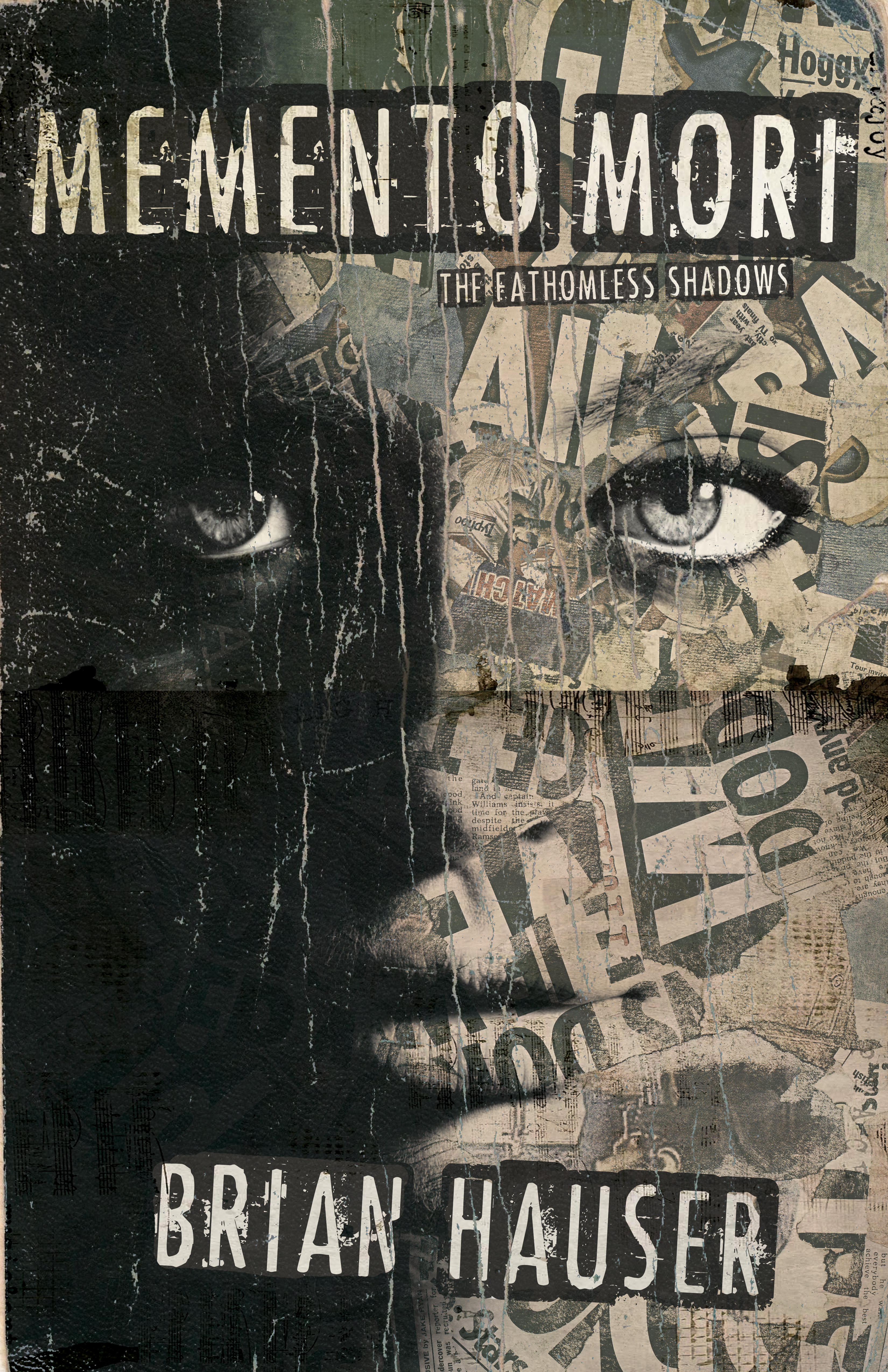 This week on The Scariest Part, my guest is author Brian Hauser, whose debut novel is Memento More: The Fathomless Shadows. Here is the publisher's description:
Underground filmmaker Tina Mori became a legend in the late 1970s with a stolen camera, a series of visionary Super 8 shorts (The Eye, The Stairs, The Imperial Dynasty of America) and a single feature film, heralded as her masterpiece, Dragon's Teeth. Then she disappeared under mysterious circumstances. Was it foul play, or did Tina Mori go somewhere else? And if so, where? Could it have been the otherworldly Carcosa so often referenced in her films?

Through many layers, including letters, a 'zine made by a teenage horror film fan, and a memoir written by Mori's college roommate and muse, film historian and debut novelist Brian Hauser delves deep into Tina Mori's life and legacy, exploring the strange depths and fathomless shadows situated between truth, fiction, fantasy, and the uncanny.
And now, let's hear what the scariest part was for Brian Hauser:
Memento Mori: The Fathomless Shadows is about many things that have the power to make me shudder in terror or stare into the distance, frozen with anxiety. It's about the sometimes blurry lines between fiction and reality and how it feels when we no longer have solid ground beneath us. It's a book about how the accretion of information can winnow away certainty and security. It is also about The King in Yellow and nightmare-haunted Carcosa and powers beyond our merely human ability to grasp. There's a lot going on; I won't lie. But all of that was well inside my comfort zone. Maybe that is a completely different blog post. (Dude, this is your comfort zone? Huh-uh.)
I'm here to tell you about the scariest part, though, and for me the scariest part was finding three of the four voices that tell the story. The narrator I didn't have any trouble with was me, Brian Hauser. Memento Mori is a faux non-fiction story which is framed by a horror film scholar named Brian Hauser (hi), who is setting out to present the story of an obscure underground horror filmmaker from the late-1970s named Tina Mori. Writing in Brian Hauser's voice is what I do. It's my day job. No sweat. But this not-quite-Brian Hauser is claiming to have gathered together a series of documents that, together, weave a chilling tale about Tina Mori, the people whose lives she touched and influenced, and that dreadful place where black stars rise. The other three narrators in the novel are all women who have led very different lives from my own. Finding those first-person voices required not just imagination, but also empathy, and I knew that they would undergo a certain understandable scrutiny as a result.
The most harrowing voice was not actually Tina Mori or C.C. Waite, her college roommate. I connected with them as a filmmaker and professor, respectively (though they are both more than those things). The scariest part was trying to see the world of 1996 through the eyes of Billie Jacobs, 15-year-old suburban Riot Grrrl horror fan. There is a lot of me in Billie, despite the fact that in 1996 I was in my first year of active duty with Army intelligence. When I was 15, though, I was a crafty kid who was just as likely to be building and painting plastic models or lead miniatures as I was writing stories, but I was not into anything like punk. I liked music, but I didn't have any kind of taste, genuine or affected. Billie found Bikini Kill and Babes in Toyland and Bratmobile, bands who grabbed her by her core and shook her into a frenzy of awareness. Punk music and zines made her feel like she belonged to something she recognized and that recognized her, too. Trying to empathize with Billie and understand her hopes and dreams, her anxieties and her fears, was the scariest part, because I wanted to do her justice, and the gap between the two of us felt the biggest.
I want to do all my characters justice (at least artistic justice), and for Billie that meant letting her do most of the writing in her zine. I needed to be able to articulate her own childhood memories from her perspective in 1996 rather than my own. I had to report her nightmares as faithfully as I could. I confronted her yearnings and listened quietly for the things that made her catch her breath. I thought for a long time about who Billie would admit to being in public versus the person she could be in her zine, Final Grrrl. In perhaps the most dizzyingly terrifying moment, I wrote two punk songs that she could copy lovingly into the pages of her zine. It felt right to risk artistic failure to give Billie's fandom a chance to live and thrive more than reportingly.
Whether or not I succeeded in doing right by Billie is largely up to you. She gets to tell you her part of the story, and if her nightmares intersect with yours, if her anxieties resonate with yours like a tuning fork, then I'll feel like the two of you have met. Maybe you'll meet in a used-record store, or in the horror section of a local video store, or maybe across the counter of her uncle's copy shop. You might be ready to dismiss her as a punk girl out of central casting until you see the curious symbol inked into her denim in half a dozen different spots with a ballpoint pen, the figure that seems to be a letter but from no alphabet you have ever seen until now.
Have you seen it? Have you seen the Yellow Sign?
Memento Mori: The Fathomless Shadows: Amazon / Barnes & Noble / Powell's / IndieBound / Word Horde
Brian Hauser: Website / Facebook / Twitter
Brian Hauser is from Carter-era Rust Belt suburbia. He grew up during the first generation of Dungeons & Dragons, the satanic panic, and classic 1970s horror films. He wrote his first novel thirty years ago, but he abandoned it, horrified at what he had done. This book would later track him down and demand a companion. When Hauser refused to comply on moral grounds, the novel stalked him, destroyed his life, and then disappeared onto an arctic ice floe. It was a whole thing.* Later, he spent quite a few years in and around The Ohio State University and Columbus, Ohio and has never really gotten over it. Hauser is one of those people who writes his first drafts on a manual typewriter (a 1956 Smith-Corona Silent-Super), because there is a time for Delete keys but that time is not during the first draft (and scanners with OCR are his friends). He has been a professor of film and literature, a filmmaker, and a soldier. He currently lives north of the Adirondacks with his partner and their two cats.
* h/t Mary Wollstonecraft Shelley