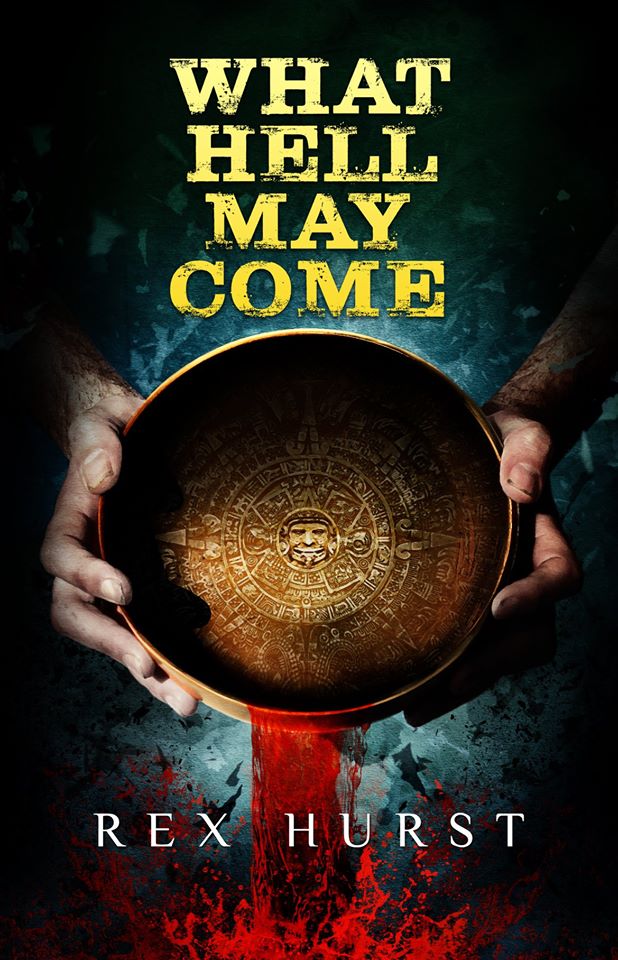 This week on The Scariest Part, my guest is Rex Hurst, whose latest novel is What Hell May Come. Here is the publisher's description:
The satanic panic was a moral outcry in the United States over supposed "satanic" influence in media warping the youth of America. Claims that playing an elf in Dungeons and Dragons could lead to demonic possession, that playing heavy metal music backwards would reveal satanic messages, and that therapists could uncover repressed memories of satanic ritual abuse, were all too common. Volumes and volumes of material were produced on this fake subject. These texts leads to What Hell May Come which takes a look at what the world would actually be like if all of the claims of the satanic panic were true.

Set in 1986, Jon St. Fond's life is a living Hell. Deliberately abused and neglected by his parents, the only joy he has in life is an escape into a fantasy land of role playing games. He discovers that his parents are part of a secret occult religion with hidden ties all across the world. Jon soon learns there is method behind the madness of his life, as his Father begins to bring him closer and closer into the ways of the cult. Ultimately, Jon must make a choice between all the pleasures of the earth and the future of his soul.
And now, let's hear what the scariest part was for Rex Hurst:
With my new book What Hell May Come being released on June 12th, 2020, I was given the daunting task of coming up with the scariest part of my book. Luckily, our good host, Nick Kaufmann, left it open to interpretation for what was meant by "the scariest part." For me, the most disturbing part wasn't in anything I wrote, but what I found in the research leading up to the novel.
The book was inspired by the Satanic Panic of the 1980s, where it was fashionable to claim that everything embraced by youth culture was designed to corrupt the morals of young people and lead them down the road to damnation. All of this was supposedly controlled by a shadowy Satanic Elite. People naturally reacted and a flourishing book trade sprouted up of people relating their "experiences" with these Satanic forces, which I read more than I should have.
But along the way I uncovered such gems as:
"The unicorn is a symbol of the antichrist, which the prophet Daniel described in his vision as the little horn which rises in the midst of the ten horns. My Little Pony symbolisms may be cute, but they are definitely based on occult symbolisms. The occult symbolisms are not limited to the toys themselves. The My Little Pony cartoon is also laden with the occult."
From Turmoil in the Toybox by Phil Phillips.
Or:
"Rainbow Brite is a little girl who 'can bring sparkles of color to the darkest day and put a bright smile on a little girl's face'. … However the cartoon is laden with occult symbolisms. [Occultists] use rainbows to signify their building of the Rainbow Bridge (antahkarana) between man and Lucifer, who they say, is the over-soul."
From Turmoil in the Toybox by Phil Phillips.
And:
"An Illinois fifth-grader developed a serious psychosis clearly linked to D&D gaming and had to be admitted to a state psychiatric hospital. His teacher said that the boy (who had good grades and never had been a behavior problem) had been sitting in the back of the room, staring at the wall. When confronted, he said, 'the wizard told me to do this.'
"The boy was heavily involved in D&D play and told the principal that voices told him to do things. He admitted to frequent nightmares of being chased by a dragon through a cave and a wizard master telling him to kill his friends and family. The principal also noted that the boy hinted at suicidal 'commands'."
From The Devil's Web: Who is Stalking Your Children For Satan? By Pat Pulling (creator of B.A.D.D. – Bothered about Dungeons and Dragons).
Yes, if you let your daughters play with My Little Pony or Rainbow Brite dolls, you are allowing them to worship the antichrist. And if your kid plays a dwarf in a game of Dungeons and Dragons he will become a mentally ill murderer, totally absolving you of any blame for bad parenting.
We can laugh at the ridiculousness with the security of hindsight, but remember people believed this. For many adults, these writings were their first exposure to Heavy Metal music, role playing games, and video games, and they were of the generation that believed everything put into print. So think about the actions of people who were successfully frightened by passages above. People went to jail because of this propaganda. Lives were ruined. That's what I find truly scary.
What Hell May Come is a serious look into the demented imaginations of people who wrote about things they barely understood. What the world might look like had their suspicions been true? Truly, a very scary place.
What Hell May Come: Amazon / Barnes & Noble / Powell's / Bookshop
Rex Hurst: Website / Review Blog / Twitter
Rex Hurst is a failed entrepreneur trying to sell do-it-yourself rat breeding businesses. When that failed, he took up writing. He is the author of What Hell May Come; The Foot Doctor Letters: A Serial Killer Speaks Out; and the sci-fi novel Across the Wounded Galaxy – based on the Battlelords RPG game universe.