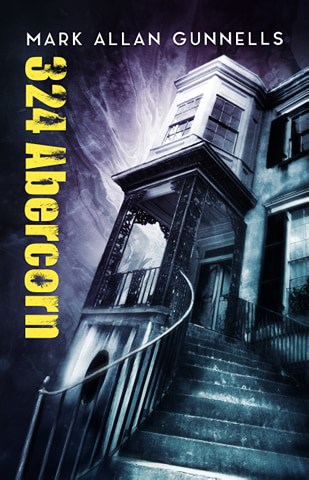 It's a Scariest Part hat trick! This week on The Scariest Part, my guest is Mark Allan Gunnells in his third appearance on this blog! His latest novel is 324 Abercorn. Here is the publisher's description:
Brad Storm doesn't believe in ghosts, but moving into the house at 324 Abercorn just may change his mind.

Best-selling author Bradley Storm finally has enough money to buy and restore his dream home. Despite 324 Abercorn's reputation as one of the most haunted houses in America, Bradley isn't worried. He doesn't believe in the supernatural. Then strange things begin to happen. Objects no longer where he left them. Phantom noises heard from empty rooms. Shadows glimpsed from the corner of his eye.

Is his house truly haunted, or is there something more sinister happening on the property?

With the help of Bradley's new boyfriend and a few friends who are just as intrigued with the seemingly inexplicable occurrences surrounding the infamous house, they set out to find the truth of what stalks the halls at 324 Abercorn.
And now, let's hear what the scariest part was for Mark Allan Gunnells:
The scariest part of writing my new novel, 324 Abercorn, was trying to do justice to a city I love dearly.
Savannah, Georgia, is a place I almost consider a home away from home. My husband and I vacation there at least once a year, sometimes more than once. It is a city where I feel comfortable and at ease, and also a city that gives off a certain unique magic.
For starters, Savannah is beautiful. The grand historic homes, the lush squares throughout downtown, the Spanish moss hanging from the trees. It is a banquet for the eyes, and yet there is another quality to the city that is harder to define. An atmosphere, a charm, a vibe. These things almost defy description, and therefore they are hard to convey in words.
Which makes the prospect of trying to capture this atmosphere in a novel rather daunting, but I definitely wanted to try.
I have read a few books set in Savannah where I felt the writers didn't try all that hard. You know these stories take place in Savannah because the narration tells you so and occasionally a street name is mentioned, but there is nothing of the city's unique flavor in the book. The location feels more generic, as if it could be taking place anywhere.
I wanted to avoid that. I wanted people from Savannah to read 324 Abercorn and say, "Yes, that is my home, I recognize it!" And I wanted people who have never been to Savannah to read the novel and feel that they knew the place anyway and if they ever traveled there it would feel like a return. I wanted to create a story that detailed the special blend of genteel southern allure and bustling sophistication that pervades the city's people and history.
And that was scary, I won't lie.
One of the first things I wanted to do was highlight the city's rich history, not in such a way that felt like a school lesson, but weaving the history into the narrative so that the two felt intrinsically linked in an organic way. For a city that revels in its history, that seemed the natural approach.
Next, I wanted to feature the geography of the location. Nothing generic for me, but I wanted to be specific about streets and buildings, to the point that I wrote the entire novel with a map of Savannah next to me. If a character walked out of a certain store, headed for a certain park, I wanted to make sure I knew the most natural route he would take.
I also wanted to feature a cast of diverse characters that would speak to the wonderful energy and delightful magnetism of the city's citizens. This was perhaps the most enjoyable part of the process for me.
That fear of possibly not doing justice to Savannah motivated me to work harder, and I like to think it paid off. Readers will be the ultimate judge of this, of course, but my dearest hope is that when people read 324 Abercorn, they fall in love with the city as much as I have.
324 Abercorn: Amazon / Barnes & Noble / Powell's / Bookshop
Mark Allan Gunnells: Blog / Facebook / Twitter / Instagram
Mark Allan Gunnells loves to tell stories. He has since he was a kid, penning one-page tales that were Twilight Zone knockoffs. He likes to think he has gotten a little better since then. He loves reader feedback, and above all he loves telling stories. He lives in Greer, SC, with his husband Craig A. Metcalf.