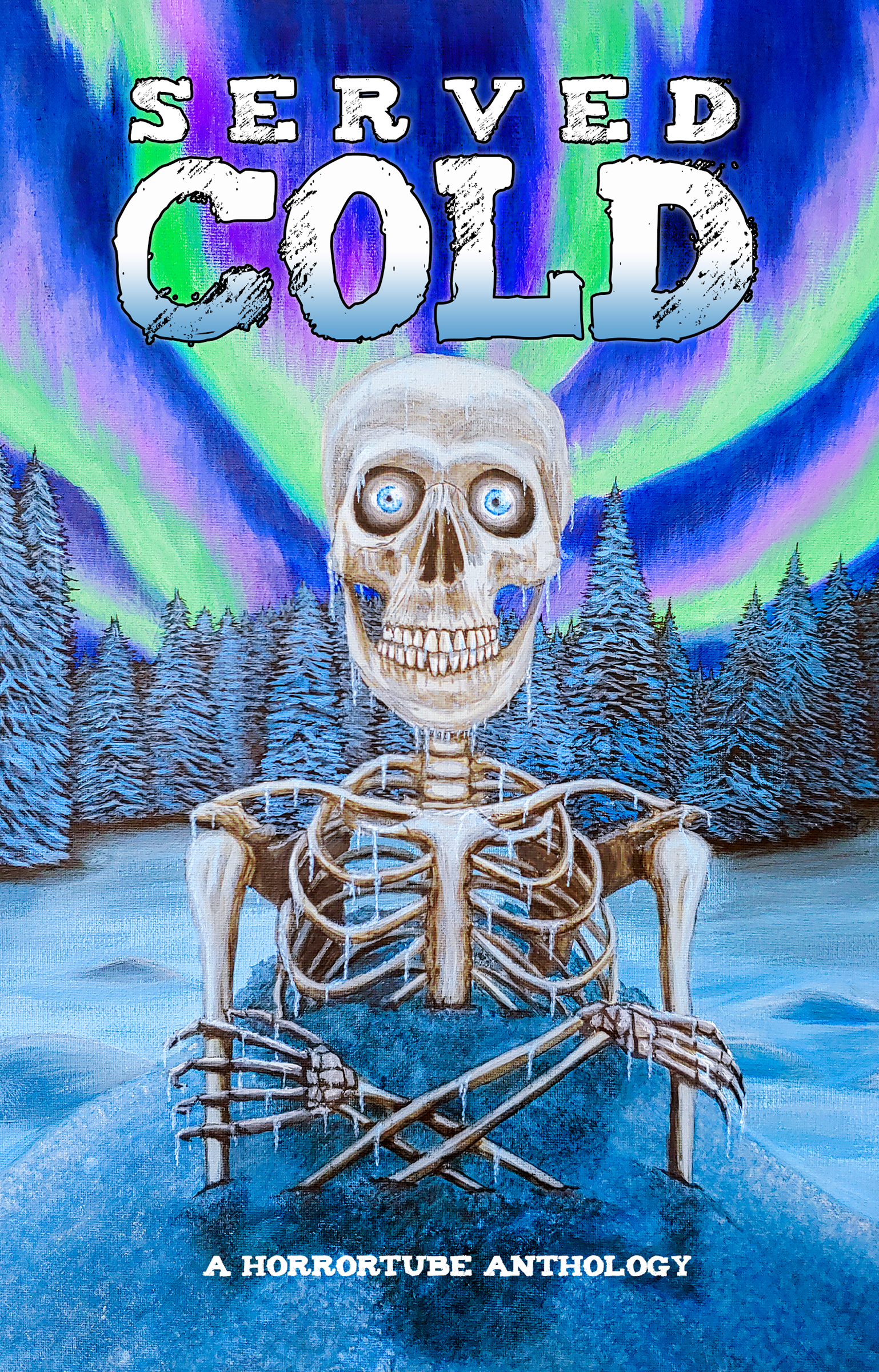 This week on The Scariest Part, my guest is author and editor R. Saint Claire, whose latest book is the anthology Served Cold, featuring stories written exclusively by members of the HorrorTube community, content creators who talk about horror novels and movies on YouTube. Here is the book's description:
Twenty-two teeth-chattering tales!

Wrap yourself in your favorite blanket, curl up by a fireside or in a warm bed, and enjoy these tales of sub-zero terror brought to you by some of the many voices of HorrorTube.

Foreword by Steve Donoghue
Karakoncolos by Cameron Chaney
The Rescue by Janine Pipe
Red Albums by Cam Wolfe
Magic in the Hat by Donnie Goodman
Isolation by N.M. Brown
Sweep in the Sidestreet by A.B. Frank
Frostbite by Alfie Tobutt
Black Wood by Marie McWilliams
The Cold Traps by Steve Donoghue
This Grey Winter by Mihalis Georgostathis
Orpheus Descends by Andrew Lyall
Thou by Mers Sumida
The Walk-in by Mike DeFrench
Ensnared by Aphrodite Lee
Cold Crossing by Jacob Peyton
Snow Boy by Ryan Stroud
The Woods and Mister Softee by R. Saint Claire
Revival by Madison Estes
Lake Alice by Michael Taylor
Fractals by D.L. Tillery
Water of Life by Gloria McNeely
Black Solstice by Dane Cobain
And now, let's hear what the scariest part was for R. Saint Claire:
When did I first consider putting together a HorrorTube anthology? I'm not sure, but I was pleasantly surprised at the positive reception once I put the idea out there. Then came the scary part: can I pull it off?
I had some experience composing indie books for self-publishing, which wasn't altogether challenging. Also, as someone who had worked in theater most of my life, I was confident in my ability to "put on a show" with minimal investment. However, once the date was set, I wondered if I'd get any submissions. I needn't have worried. People came through, and even better, they were willing to do it for charity.
Fears confronted and challenges met, the first HorrorTube anthology, Local Haunts, went off without a hitch. It continues to sell well today. Soon after its publication, Steve Donoghue, BookTube's prolific professor emeritus, encouraged me to do another one and offered to help.
From there, Served Cold was off and running. However, the problem with doing a seasonally-themed anthology is you need to get it out in time. Cutting it too close for a winter release, I shelved Served Cold for ten months and aimed for a holiday launch.
Served Cold emerged from the freezer this past December, and so far, it has been thawing out quite nicely. The receptions for both anthologies exceeded my expectations. People outside of our small community were starting to notice, even if just to ask the question, "What the hell is HorrorTube?"
It's a question Steve Donoghue answers in his foreword for Served Cold, where he breaks down the evolution of YouTube and its various sub-groups. He also reflects on why horror and the cold are a perfect marriage made in Hell. "Horror tales always give chills, not hot sweats," writes Steve. This anthology explores the many possibilities expressed by that idea.
If given a choice between fire and ice, as Robert Frost's famous poem posits, I, like Frost, would choose fire. But, as Frost so eloquently reminds us, ice is just as hateful and destructive, but perhaps in less overt ways than its fiery counterpart. Ice's slow, soul-eroding nature entices mountaineers to perilous summits and leads, as it does in Served Cold, men and women to embark on ill-fated missions to Antarctica, the ocean's depths, and deep space, as well as the coldest regions of the human heart. In horror, nothing is more chilling than realizing you're irretrievably trapped in a cage of your own making or to awaken, as one of our characters does, within a deep freeze with no way out. The deceptiveness of the cold and our belief that we can survive it make for fertile, albeit frozen, ground for horror fiction.
That's not to say there aren't plenty of bone-chilling frustrations involved in the real-life operations of producing an anthology composed of authors from all over the world with varying levels of experience. But I can confidently say that all the authors involved brought their A-game, as did our returning cover artist Cameron Roubique, whose bug-eyed skeleton character is a story unto himself.
Overall, the plusses of producing both anthologies far outweighed the minuses. It was an honor to have Local Haunts recognized in Ellen Datlow's The Best Horror of the Year, and I'm proud to report that as of this date, we've donated over $500 to the children's literacy charity First Book.
Will we do it again? Possibly. Honestly, it was a lot of work that, at times, felt overwhelming. But other BookTubers, such as Cam Wolfe with his recent We're Not Home anthology, have already picked up the mantle.
I sincerely hope the trend continues whether I'm involved or not. BookTube, and by extension HorrorTube, is a wonderful community of readers and writers worldwide. Not acting on the impulse to bring talented people together to strengthen the community and give to a good cause is a scary prospect indeed.
Served Cold: Amazon
R. Saint Claire: YouTube Channel / Instagram / Blog
Regina Saint Claire writes adult and young adult fiction, but always with a dark flair. Writing honors include a Watty Award for best horror novel and multiple screenwriting awards, including a Webby Honoree. Regina is also the contributing editor of the bestselling Local Haunts: A HorrorTube Anthology and its follow-up publication Served Cold.