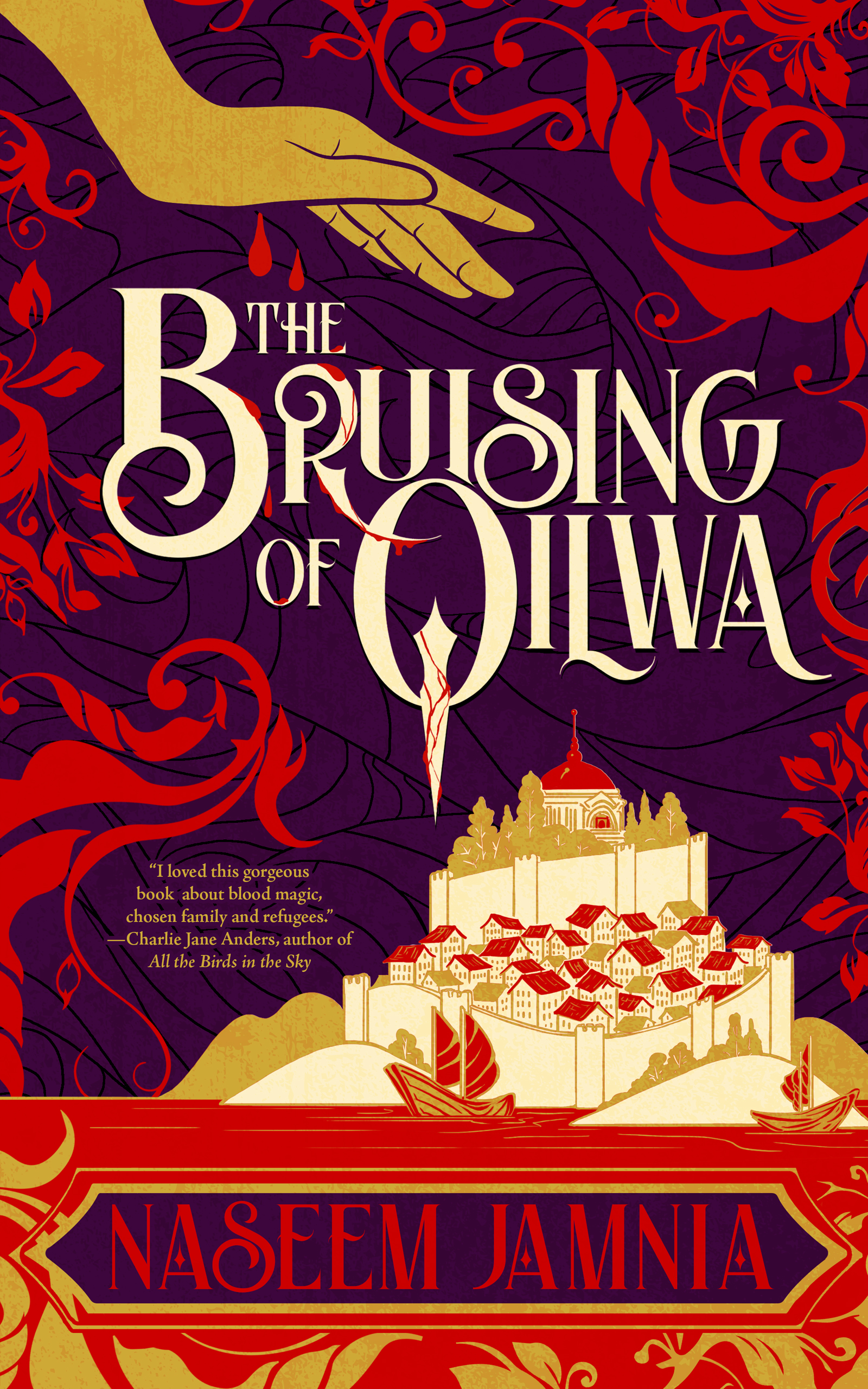 This week on The Scariest Part, my guest is author Naseem Jamnia, whose debut novella is The Bruising of Qilwa. Here is the publisher's description:
In this intricate debut fantasy introducing a queernormative Persian-inspired world, a nonbinary refugee practitioner of blood magic discovers a strange disease that causes political rifts in their new homeland. Persian-American author Naseem Jamnia has crafted a gripping narrative with a moving, nuanced exploration of immigration, gender, healing, and family. Powerful and fascinating, The Bruising of Qilwa is the newest arrival in the era of fantasy classics such as the Broken Earth Trilogy, The Four Profound Weaves, and Who Fears Death.

Firuz-e Jafari is fortunate enough to have immigrated to the Free Democratic City-State of Qilwa, fleeing the slaughter of other traditional Sassanian blood magic practitioners in their homeland. Despite the status of refugees in their new home, Firuz has a good job at a free healing clinic in Qilwa, working with Kofi, a kindly new employer, and mentoring Afsoneh, a troubled orphan refugee with powerful magic.

But Firuz and Kofi have discovered a terrible new disease which leaves mysterious bruises on its victims. The illness is spreading quickly through Qilwa, and there are dangerous accusations of ineptly performed blood magic. In order to survive, Firuz must break a deadly cycle of prejudice, untangle sociopolitical constraints, and find a fresh start for their both their blood and found family.
And now, let's hear what the scariest part was for Naseem Jamnia:
I originally wanted to use this opportunity to talk about the body horror in The Bruising of Qilwa. For this fantasy novella, I leaned on body horror — on its relationship to transness, on the food metaphors, on using my scientific background to make some gross decisions — to darken the slice-of-life aspects of the story. But the reality is, no matter how much I enjoy writing body horror, the scariest part of Qilwa is how much of our real world it reflects.
Qilwa follows a nonbinary refugee healer fleeing a genocide, who arrives to the newly independent city-state of Qilwa during a plague. Faced with both migrant and public health crises — and blaming the latter on the former — Qilwa tries to shut its gates. Then, the government cracks down on the clinics around the city providing free healthcare, restricting access for not only to the migrants but poor Qilwans as well.
Sound familiar?
I don't mean to be on-the-nose with my secondary world. Indeed, issues of migration and healthcare were not in my thoughts when I originally sat to write The Bruising of Qilwa; learning to write a short story was. The larger world is one I've been playing in for a while, so it made sense as a backdrop for stretching my creative parameters. But very quickly, Qilwa took on a life of its own — one that reflects our world far more than I meant it to.
I started writing Qilwa before COVID. The story begins during a plague but quickly gives way to a new and potentially more sinister disease. While this second disease, the main focus of the novella, is perhaps not as deadly as the first, it is as alarming, if not more, to the main character.
And now, monkeypox is spreading through the US.
In her introduction to the Best American Science Fiction & Fantasy 2018, N.K. Jemisin discusses speculative fiction's revolutionary potential. She explains how speculative fiction can help us imagine worlds better than our own. This philosophy is central to my work, which is why I created Qilwa's queernormative, SWANA-inspired world. Yet, in my desire to understand and deconstruct my own relationship with my Persian heritage (the subject of my author's afterword), I did choose to reproduce the mistreatment of migrants.
I started writing Qilwa before Ukraine, but migrants have long been maligned (especially Black and brown migrants). The migrants in the book, fleeing a genocide, face many of the same conditions that they would in our world: squalid living situations, worse health outcomes, dangerous jobs, decreased access to healthcare and education. It is impossible to divorce this phenomenon in our world from its larger context of white supremacy and hegemonic whiteness, colonialism and neocolonialism. While in the world of Qilwa there isn't whiteness or white people, there is a history of imperialism at the root of the conflict.
But even though I can trace the creation of the situation in Qilwa, it unsettles me that I internalized many of our world's problems enough to reproduce them subconsciously. How can I work toward a better reality if I'm not able to imagine one? I can only hope that this scariest thing is not the end of the sentence, but only the beginning of a new one.
The Bruising of Qilwa: Amazon / Barnes & Noble / Powell's / Bookshop / IndieBound
Naseem Jamnia: Website / Twitter / Instagram
Naseem Jamnia is a Persian-Chicagoan, former scientist, and the author of The Bruising of Qilwa. Their work has appeared in The Washington Post, The Rumpus, The Writer's Chronicle, Cosmopolitan, and other venues, and they've received fellowships from Lambda Literary, Otherwise, and Bitch Media. The inaugural Samuel R. Delany fellow, Naseem lives in Reno with their husband, dog, and two cats.